Dave Patten is an independent artist based out of Philadelphia, his music brimming over the the influences of the urban scene, from hip-hop and rap, to the smooth sounds of the acoustic jazz scene. Philly certainly have been the epicenter for blue-eyed soul, a phrase carved out and owned by Hall & Oates.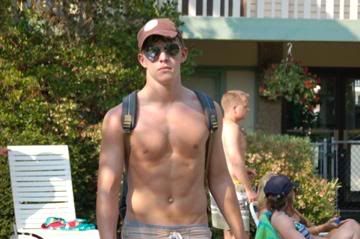 At first I didn't know what to make of Patten, his music seemingly scattered, but once you listen, you hear the through line, sort of an Uncle Kracker with a stronger voice and a better look. He mixes some rap, r&b, with a strong rock base. He is just as comfortable with that as he is when takes it back to the smooth and simple sound of a folk/jazz mix, a la Ben Folds or Jason Mraz. Patten has a sense of humor, often seen in the lyrics and production of the music. He has built up a following for his music with a presence on YouTube, taking advantage of his film school training to make some videos for his music.
His latest video, featuring the song
Won't Give Up
(performed with rapper Fese), has been nominated in a contest that awards the winner $10,000, the winner being figured by YouTube hits. Well, I think it is a pretty darned good video, and a good song, so why not see if others might think so! You know I believe that every once in a while, Str8 boys need love too.
YouTube link to the video is
here
. I you like it, or know someone who might, feel free to forward it on. You can learn more about Dave Patten at his website
here
. Be sure to check out the 'Music' section, where you'll find some free downloads. You can also find links to his other pages there.