Some might remember Von Smith as the ambitious singer from season 8 of American Idol. With a big voice and an even bigger personality, Smith made it through to the Top 36 before being (unfairly) eliminated. He was brought back for the Wild Card competition, and much to the dismay of many fans, he was once again dismissed. The great news was that Von did not give up, working hard over the next few years for a chance to have his voice heard. That lead to the next opportunity, when he Opened for Lady GaGa on tour in Australia in 2012.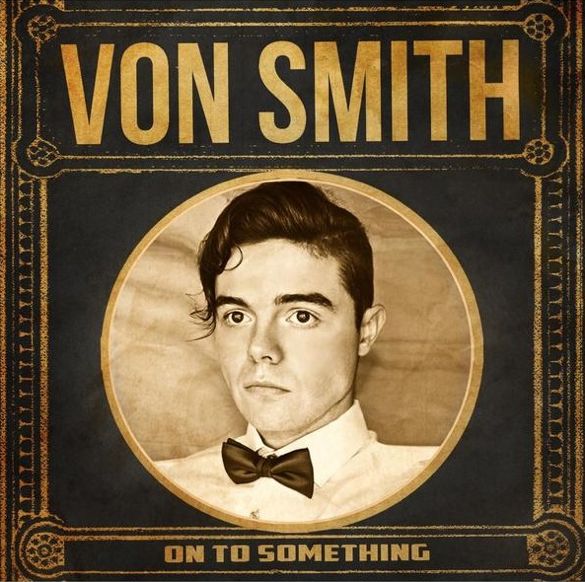 As I said, Von never gave up on the dream of being a professional singer. Recently, he set a new benchmark for himself, as he released an EP of studio recordings called 'On To Something'. I first learned about this EP from my friend, JD Doyle, curator of
Queer Music Heritage
. When I listen to the EP, I find Von to be part Freddie Mercury, part Robbie Williams, and part Sammy Davis Jr. But first and foremost, he is always Von Smith. 'On To Something' was released April 2, 2014, a six-song collection with all songs written, composed, and performed by Smith. He has come a long way since he was on Idol, and seems to have truly found his own voice, as well as his own music. The 'On To Something' EP was released on April 2, 2014, a six-song collection that never fails to intrigue, nor to entertain. The show begins with the eccentric and bombastic "Carnival of Life", which allows Von to show off that magnificent instrument, and the ease with which he uses it. This has the drama of Freddie and Queen, melding hyperactive operatic moments with Pop and Rock. From the opening moments of "Pilot Light", we know this is a very different number, part Maroon 5, which the flirty feel of Robbie Williams at his best. "Almost Free" has a slow and easy start, building from Peggy Lee Jazz to Cyndi Lauper pyrotechnics. There is something so simple, to straightforward, so honest about this song, I find it hard to resist. By the way, as you read the rest, you might want to hear a bit of a sample of what I am talking about, here in a YouTube clip I made for you. Of course, the music and album cover is all Von Smith!
There is a coy flirty whisper at the start of "Monster", but soon we get to the core, a full-throated look at love and the consequences of it. This is such a charming song, part 1960s girl group, with a nod to Lady Gaga. And there is such a humor present, I must smile. There is a kooky feel to the idiosyncratic "On to Something", when I suddenly wonder if Von isn't the lost love child of Jim Morrison and Patti LaBelle. He delivers off-centered and slightly off so well, perhaps disturbingly well... But there is real beauty in the song, a melodic and lyric win, for sure. The EP comes to an end with "The Prize", a song with a wistful longing I hadn't felt thus far. There is a wonderful strength to the vocals, and not just in Von's voice. There is a power behind the vocals, not just in his mind-boggling range. As it comes to a close, I can't help but think Smith truly found his niche, and delivered a bold and buoyant EP. It is a wonderful carnival ride, hosted by a ringmaster who knows how to big you up high, and drop you near, but not to, the earth again. You can purchase 'On To Something' from
iTunes
,
CD Baby
, and
Amazon
. To learn more about Von Smith, visit his
official website
. You can also 'follow' him on
Tumblr
and
Twitter
, and 'like' him on
Facebook
.