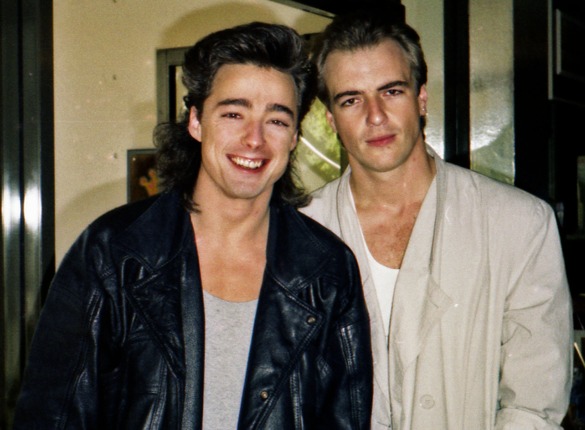 (Left to right) Richard Drummie and Peter Cox in 1985.
I was first moved by the music of Go West in 1985, when I saw.heard the video for their first single, "Call Me". The group was made up by rhythm guitarist Richard Drummie and vocalist Peter Cox. The British artists got together in London, England, in 1982, and apparently, it was a match made in heaven. I loved the first song, and went to my favorite import store and purchased their eponymous debut album. I loved it so much, I couldn't wait for more. And soon as I found it, I purchased it! Of course, it didn't hurt both men were strikingly handsome, and Cox had a voice with just the right amount of grit behind it.
In 1990, the band had a song in the soundtrack to the film 'Pretty Woman'. Turned out to be a good move, as the song, "King of Wishful Thinking", went to #8 on the Billboard Hot 100, and they received an ASCAP award for being one of the most played songs in America in 1990. The song was all kinds of catchy, and I, along with many others, found it irresistible. And while it might be hard to believe, that makes the song 24 years old at this point. It was written by Drummie and Cox, and performed to perfection by them. This is the official music video for "King of Wishful Thinking" by Go West.