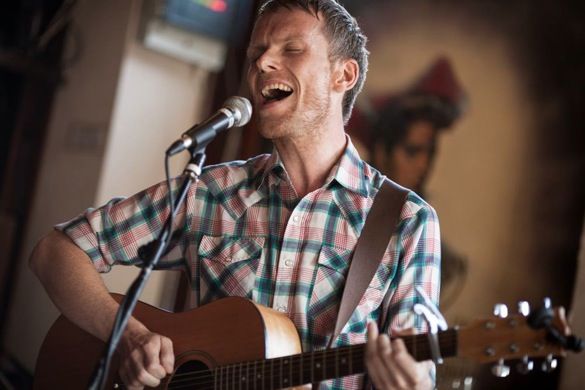 Since the first time I heard the opening bars of "This Changes Everything", I have been at the mercy of British singer/songwriter K. Anderson. Smart, sexy, fun, and intriguing are just a few of the words I could use to describe his music, but I could also throw in ever-changing. What started out as Rocky Blues on "This Changes Everything", was followed by the Folky charm of "Bruise Like A Peach", and the quirky confessional of "14-Year-Old Me". Well, you get the idea. But now, he had a new music video out, and it is something unlike the others, but keeps my attention nonetheless.
In his latest single, K. offers a view of the freedoms of youth, when love and sex were offered freely and generously. Stylistically, the song is part Arlo Guthrie, and part Macklemore. Somehow, Anderson has combined the tradition of Folk storytelling with the Hip-Hop vibe more familiar to the current generation of music lovers to make a yummy treat with "Fuck Around". Yes, the theme might be more adult in message, and perhaps not safe for viewing/hearing in the office or around children, but I know it works damn well for me. In retrospective, when you are young, the trajectory of love and sex were not always running in parallel, even if, at times, they intersected. Sometimes, we are just left with memories, photographs, and some lube. This is K. Anderson with "Fuck Around".
In the old days, I would say this single included a B-side, although now it is seen as another track on the EP. In this case, that honor goes to "Sunburnt Bodies", a delicious song that combines Pop with the music of spaghetti Western movies, sounding both mysterious and desolate. There is something quite sexy about the song, be it the reflective nature of the lyrics, or the sexy delivery of them. Chalk it up for another win for Anderson and for fans of music, who will need to own both tracks. You can purchase the 'Fuck Around' EP from
Amazon
, and
Bandcamp
. To learn more about K. Anderson, visit his
official website
. You can also 'follow' him on
Twitter
and 'like' him on
Facebook
.