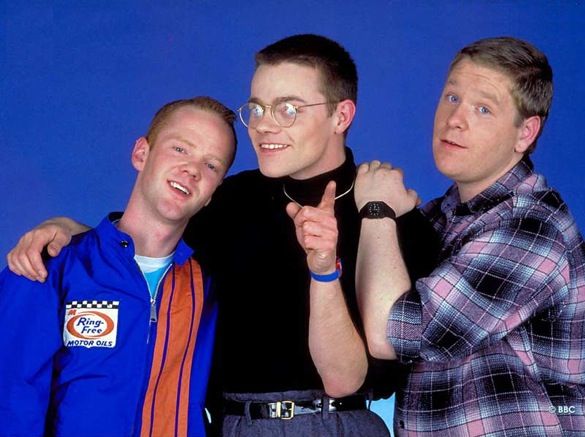 Jimmy Somerville, Larry Steinbachek, and Steve Bronski.
I could not possibly finish out my birthday week without focusing on a group that positively rocked my world when I first found them. In the fall of 1984, Bill and I moved to the borough of Brooklyn, after finding a big apartment on 7th Street in Park Slope. One day, while channel surfing, I come across this station playing music from I don't know where. I decided to leave it on, and go about my business. At one point, I hear this amazing voice singing a familiar song. I look up, and it is the most incredible sound coming out of the time man on my screen. It was the Bronski Beat, with lead singer Jimmy Somerville, singing "It Ain't Necessarily So", the great song written in 19?? by George and Ira Gershwin for the 1935 musical 'Porgy and Bess'. It was then I realized I needed to pay attention, and figure out who this band was. I learned it was Bronski Beat, a British synth-Pop group, made up by Somerville, Steve Bronski, and Larry Steinbachek.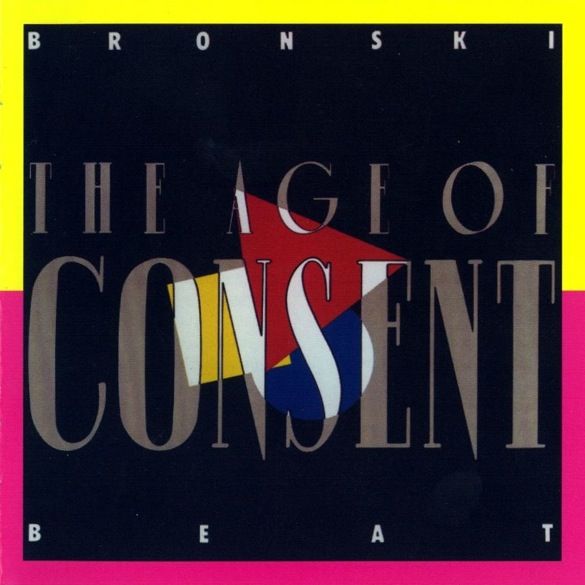 The first chance I got, I was in the import record store in the West Village, on Cornelia Street just off of West 4th. After all, I was working close by, at the Circle Repertory Theatre on Sheridan Square. It was at this store I purchased 'The Age of Consent', the first album in my collection from an unabashedly out and proud group. It was amazing on just so many different levels, and still holds a warm spot in my heart. Not only where they out and proud, they were also pissed about being treated like second class citizens. You can really hear that on "Smalltown Boy", the riotous first single off the album. It was written by Jimmy, Steve, and Larry. This is the emotional music video for the Bronski Beat's "Smalltown Boy".
With the sound of smashing glass and the clarion call of Somerville's voice, "Why?" starts off the album letting us know this is not your typical dance album. Thirty years before talk of marriage equality was commonplace, and before a simple kiss between two men on ESPN could become a topic of conversation for days, if not weeks, the Bronski Beat had the courage to stand tall in the face of oppression and ask a simple question as to how a man should be treated by others. This is the official music video for "Why?".
When this post first started, I mentioned how I discovered this group. They were playing a song this theater geek knew as a song from 'Porgy and Bess', by the great Gershwin brothers. When I was growing up, I had heard people sing a line or two from the song, when making a point that something was not going to happen. The group put their own spin on it, and giving new meaning to it with their gayness. This is the Bronski Beat with the music video for "It Ain't Necessarily So".
Finally, I could not talk about Bronski Beat or 'The Age of Consent' without bringing you the mind-blowing event that was "I Feel Love/Johnny Remember Me", a mash-up of the song written by Donna Summer, Giorgio Moroder, and Pete Bellotte for Summer's 1977 album, with a song written by Geoff Goddard that became a 1961 hit for John Leyton. Summer's "I Feel Love" caused quite the scandal, with talk of orgasms in the recording studio, making women blush worldwide. Goddard's "Johnny Remember Me" was an innocent, yet dark song, but it was given new meaning when paired with the other, and sung by two of the most outspoken gay artists of the time. Here is the heaping teaspoon of amazing that is the Bronski Beat featuring Marc Almond singing "I Feel Love/Johnny Remember Me".
Back in the mid-1980s, a gay couple might have been able to walk hand in hand in The Village, but not without a bit of fear creeping in. I worked around the corner from the Stonewall Inn, where the infamous riots were marked with a plaque on the wall. Fifteen years later, LGBT people still did not feel safe, and there were police reports to prove why. But three men put out an album that captured our hurt, our pain, and our rage, and continued the spirit of the Stonewall riot, by standing up and letting everyone know being pushed around was not acceptable. You can purchase 'The Age of Consent' from iTunes and
Amazon
. To this day, I still follow everything Jimmy Somerville does, as he has remained an inspiration to me.