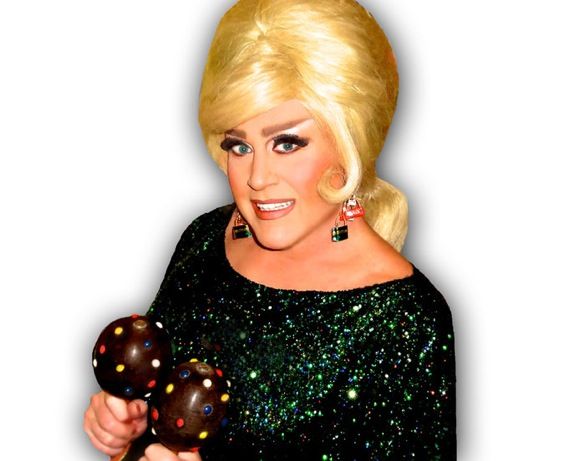 Traditionally speaking, on a Saturday night, I tend to post Love songs, some even falling to the the category of Torch songs, to the blog. Mostly, they are sung by some of the great voices of the last 80 years, and there have been several incredible voices and songs heard in this slot. And as I continue along this vein, I bring you a shining talent I featured briefly when I first discovered her, almost a year ago. Miss Hope Springs is a former Las Vegas showgirl, now getting a chance to be the center of in her one-woman-show. These songs were taken from her sell-out run in London, 'Live at Crazy Coqs'. All the songs are originals written specifically for Miss Hope by the oh-so-talented Ty Jeffries.
Her show is a music of music and stories, with both tugging on your heartstrings. Sometimes she might have you squeezing out a tear, while others have you laughing out loud. She opens the show with "Girl in a Million", and it is easy to understand why. She tells tales of getting lessons from Ray Charles, and life as a beautiful and talented girl. This is Miss Hope Springs with the autobiographical "Girl in a Million".
Next up, Miss Hope brings you to the next stop on her memorable tour. We stop in Pigalle, in a seedy little nightclub in Paris. Oh, the things she has seem, and she manageds to share most of them with you! There is humor, shock, and sweetness waiting for you to partake as Miss Hope Springs sings "Pigalle".
The next song ha a little swing, a little rock, and a whole bunch of heart. "That is Love"has all the sweetness and swing you would expect from a number from the 1960s, featuring a singing star like Doris Day. Whenever Miss Hope takes her place behind the piano, you know something good will be coming. There is so much fun and so much hart, I couldn't help but smile through it all. This is Miss Hope Springs singing "That Is Love".
In a delicious twist on Blossom Dearie's great song, "I'm Hip", we get Miss Hope singing a song from her 1982 off-off-off-off-Broadway (in Utah) show about Miss Tallulah Bankhead. Apparently, one of her great songs from the show was "I'm Bi", a flirty number talks about love, and having a taste for "surf and turf". You should not miss Miss Hope Springs singing "I'm Bi"!
I purchased my copy of 'Miss Hope Springs Live at the Crazy Coqs' from
Amazon
, but it is apparently no longer available. I think it is available on Amazon UK and iTunes UK. You can also find plenty of videos on
YouTube
. For more about Miss Hope Springs, visit her
official website
. You can also 'follow' her on
Twitter
, and 'like' her on
Facebook
.