Anthony Starble began piano lessons at age 9, and it might be said the future was written then. The young boy became obsessed with the instrument, sitting at the keyboard every chance he got. Stories have it his mother needed to pull the youngster off the piano bench on more than one occasion, whether it was to get him to the dinner table, or to make sure others in the house could sleep. Starble was picked on for being overweight and gay, a really double-whammy. He would escape to the piano, which soon paid off. By age 11, he was winning piano competitions, and was soon attending Denver School for the Arts. Soon he was writing songs, and by 16, he won the prestigious Berklee Songwriting contest for high school students. This lead to studying at CalArts, music continuing to the be focus of his world. He put out his first EP shortly after graduation. That was in 2010, so it was time to get back to work. That lead to the released of 'We Need to be Loved'.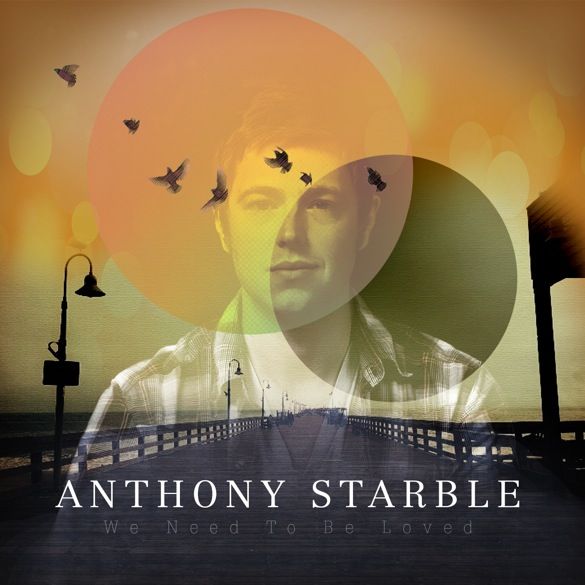 I first heard of Anthony Starble from Nicole at LaFamos, telling me about the March 2014 release. I will admit I hear about a bunch of music, and miss hearing about a ton more. It sometimes takes me a while to catch up, as is the case with this EP. 'We Need to be Loved' is a four-song collection, which combines for over 17 minutes of music. The quartet of songs were written by Anthony, who also co-Produced the EP with Jon Sosin. Starble makes music that is a combination of Indie music, Folk, and a pinch of R&B, making his own sound that allows his talents as both a singer and songwriter to soar. His writing has such an authenticity, it is impossible to feel it touch your core. He tackles topics and feelings obviously close to his own heart, which mostly involves love. That is quite apparent in the first track on the EP, the title song. Driven by the piano and his lush vocals, the song takes a look at our need for love. Listen to Anthony Starble sing "We Need to be Loved".
The second song is "Why", a ballad that takes a look at the aftermath of love, which sometimes can lead to pain. There are many reasons relationships don't work out, but the result is often the same. Someone gets hurt, and people need time to recoup, and wonder why it has to be that way. The third track is the searing "Oh Father", where a son tells a very personal story that is so similar to many. This is the official music video for "Oh Father", by Anthony Starble.
That is an inner dialog many an LGBT kid has had, both before and after talking to a parent. I bet other kids have as well, those who feel different, who feel disconnected. The final track is the beautiful "Our Love is Lonely". Once again, Anthony takes an honest look at relationships, and how aspects of love might be great, you need to work to keep it alive and fresh. I was a bit taken aback by this EP, for it is not often you get such honesty put out there. There is a velvety feel to Starble's voice, be it singing solo, or accompanying himself on a layered chorus. The EP has gone into rotation on my iPod, and I just can't get enough. Check it out for yourself, and I am sure you will agree. You can purchase 'We Need to be Loved' from
iTunes
and
Amazon
. To learn more about Anthony Starble, visit his
ReverbNation page
. You can also 'follow' him on
Twitter
, and 'like' him on
Facebook
.