On the left is Oliver Voigt and right is Jeb Havens.
I decided it would be a wonderful idea to lead off the weekend with some music I only recently discovered. First I found the music of Jeb Havens while cruising around on YouTube, and was intrigued. Then I also came across the music billed as Rowsy Bosch featuring Jeb Havens, and I have to say, I really loved it. With a minimal about of diligent research, I found out Rowsy Bosch featuring Jeb Havens is a collaboration between San Fransisco-based artists Jeb Havens and Oliver Voigt. Voigt was making music in his native Germany in the 1990s, writing and producing Pop all over Europe. After he relocated to California, he wanted to make music again, and was soon working with Havens, the gay singer/songwriter starting to make a name for himself as a solo artist. The ElectroPop the pair make is a far stretch from the piano-driven music of Havens. It is something rather wonderful, as you will soon hear for yourself.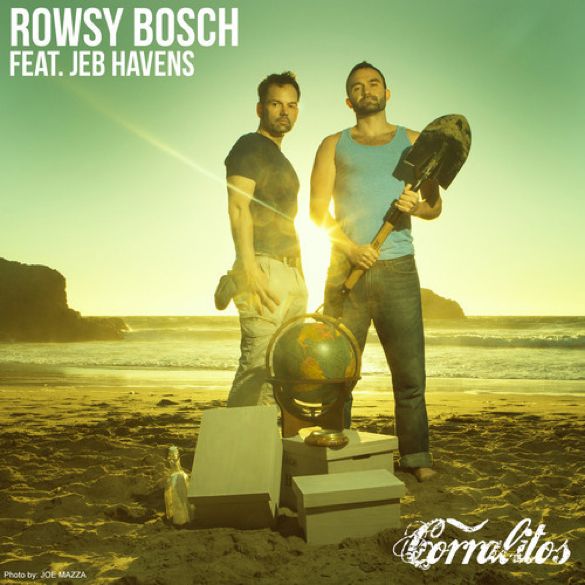 I will begin with a new song from the duo, "Turn Me On". You can listen below to the official lyric video. The song starts off with a piano and Jeb's voice, but soon the production kicks in, and the song is driven by the electronic sounds of the synthesizer, and Havens' distinctive vocals. There is a breathy quality to his voice, but it retains a fullness that is intoxicating. This is "Turn Me On" by Rowsy Bosch featuring Jeb Havens.
You can purchase the single "Turn Me On" from
iTunes
and
Amazon
. Last fall, the duo released a five-song EP named 'Corralitos'. The first official video from the collection was for the song "Take Me Back". This song sounds more like Havens' solo work, but one can certainly hear the influence of Oliver in it. And it is impossible to miss just how much the camera loves the handsome and sexy Jeb. Enjoy the music video for "Take Me Back".
"Take Me Back" was the third cut off the EP. "Strange Kind of Sadness" was the first cut off the release. It begins with the Electronic sounds that belies the instant intimate contact made by Havens. The song takes a look at the full range of emotions that can be found in anyone in in the midst of a relationship. From the magic to the sadness, Jeb brings them all to us.
You can purchase the EP 'Corralitos' on
iTunes
and Amazon. To learn more about Rowsy Bosch featuring Jeb Havens, visit their
official website
. You can also 'like' them on
Facebook
, and 'follow' them on
Twitter
.