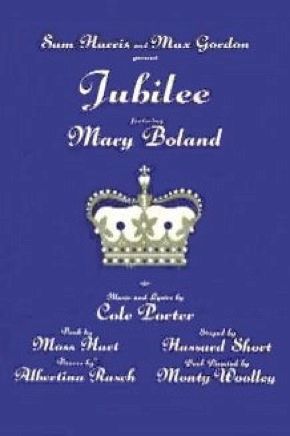 Poster for the Broadway musical and the MGM musical.
In 1935, a brand new musical with a book by Moss Hart and music and lyrics by Cole Porter. 'Jubilee' was greeted with outstanding reviews, and some still consider it the best show of the 1930s. However, opening on Broadway during the Great Depression made nothing a sure bet, and the show ran only 169 performances, less than 6 months. The show had a song introduced by June Knight that certainly had a great impact. "Begin The Beguine" is a beautiful and romantic song, talking about love unfolding. 'The Beguine' is a dance where the couple dances very close, and the song examines the time when the dance is just beginning, and you feel a chemistry that cannot be denied. The song was also used in 'Broadway Melody of 1940', used as an instrumental as Fred Astaire and Eleanor Powell tap danced an amazing routine. Enjoy as Fred and Eleanor dance to "Begin The Beguine".
But I must remind you that the song definitely has lyrics, and they are beautiful. Truthfully, everything about the song is amazing, from lyrics to music. At the base of the song there is this wonderful hope, an inherent belief that something wonderful was about to happen. In 1939, the song was recorded by singer Tony Martin, and released by Decca Records. I think his vocals are just about perfect, and so I gladly will share them with you now.