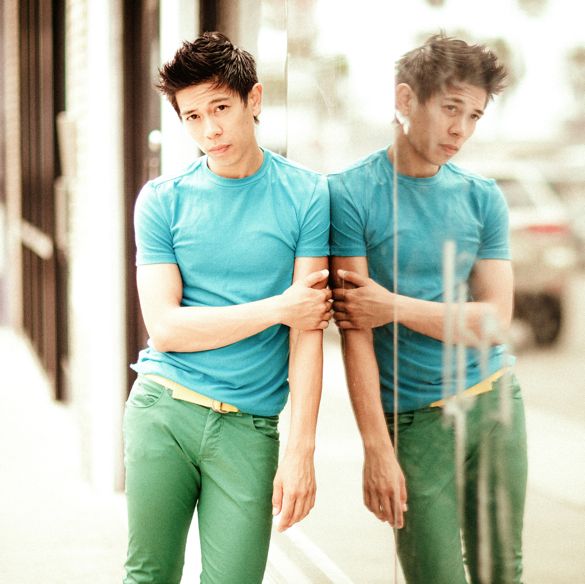 Looking back, I am very glad I got an email from Andrew Abaria not that long ago. I hadn't run across his music before, but due to a tip from JD Doyle of Queer Music Heritage, Andrew remedied that situation. Along the way, I discovered Andrew is a Los Angeles-based singer-songwriter. As the photo above can attest, he is also a handsome man, whose thoughtful portraits might belie the frothy music he makes. He is also an out and proud performer, joining the racks of many other talented artists featured on this blog. And he has just released an EP, 'We Are The Underdogs'.
When I hit play, I wasn't exactly sure what to expect. There is a certain excitement about discovering new music. You can never be sure of the quality, the content, or the genre at a simple glance at the cover. There is, for me, a hope I am about to hear a voice that will speak to me. Often, it comes true, but there are also those moments when I wish the song had remained unplayed. However, if that were the case, I am not sure the same excitement could be retained, if not for the uncertainly of the experience. That said, it was not long in the first track on 'We Are The Underdogs' that I knew I'd found something I enjoyed. From the simple chords of the piano, to the addition of his voice, "Boulevard of Broken Heart" captured my attention, a bold Pop song that allowed Abaria's vocals to form a connection with me, to my heart. I could see this being sung by a true Diva, offering a bit of Whitney Realness. While the orchestration remains somewhat simple, there is a grandiosity to the song, bringing the emotions to the forefront. Rather than my silly prattling, check it out for yourself.
The tone for "Can't Stand the Fall" tilts more toward melancholia, a real hurt that is practically palpable in Andrew's voice. We can feel the loss, and identify with the pain we have all felt following an important breakup. Abaria connects with that so well, we are brought along with him. The mood certainly moved from the beginning of "Kiss Me Till They Find Us", an unadulterated joyful Pop song, shining a light on the joy a love. If this chorus doesn't make you smile, it is time to defrost that heart. By the end of the song, I was singing along, and clapping with the rhythm. That delivered us to the title track, "We Are The Underdogs". Quickly, there is a bombastic feel, more Freddie Mercury that Meat Loaf. Just when you think the song has brought you to a new height, Andrew manages to soar a bit higher. Give it a listen, and you'll undoubtedly agree.
That leaves me with the final cut on the EP, "Silent Tonight". This really is a song that allows Abaria to reach down deep, and explore his own hurt, to expose his nerve. We've all had those moments, when we are with a loved one, looking for those soothing touches, the warm embrace, or just the right words to set our heart at ease, but instead, we are greeted by that moment of silence. That completes the album, and after several listens, I am not sure I can find a weak spot on it. Arbaria takes us with him on this emotional journey, experiencing the high and low points of love and life. We might be seen as underdogs as we find our way, but it is our resilience that increase the odds for finding happiness. And that is what makes 'We Are The Underdogs' a must have for your music collection. To learn more about Andrew Abaria, visit his
official website
. You can also find him on
Facebook
and
Twitter
. You can find 'We Are The Underdogs' on
iTunes
and
Amazon
.