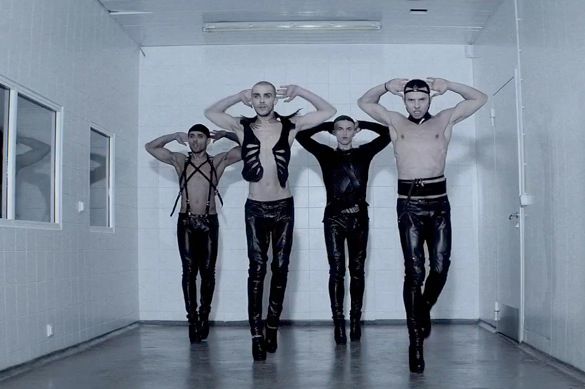 So I was just kinda cruising around on YouTube, and ran across a video that caught my eye. And a quick look at the pictures would give you an idea why a Ukrainian group would not only grab my attention, but also make me drool just a little. Kazaky is a four-man group made up by made up of Kirill Fedorenko, Artur Gaspar, Stas Pavlov and Oleg Zhezhel. The group was formed in 2010 by Oleg, a choreographer of obvious talent, wanting to combine their dance talents with making music. The sound tends more toward Techno, with a driving beat that seems perfect for the dancers. Kazaky manages to poke at traditional gender roles, combining hard masculine shapes and forms with feminine ones, wearing footwear traditionally worm by both sexes. But with all the playing with gender roles, it is hard to get a handle if the boys are gay, straight, bisexual, or somewhere in between. In fact, it seems like it doesn't ultimately matter.
This past October, Kazaky released their first full-length album, 'The Hills Chronicles', after a series of singles. The fourteen-song collection includes songs ranging between 1 to 3 1/2 minutes long. The latest single and video is for "Crazy Law", which is not found on the album, suggesting new music is being made. Watch and enjoy.
For a time, Stas Pavlov left the group, and Francesco Borgato stepped in to take his place. However, once Borgato decided to embark on solo projects, Pavlov returned to be a part of Kazaky. But while Francesco was a part of the group, they made a couple of music videos, including this one playfully called "Kazaky Horror Picture Show", featuring the song "Love", found on the 'The Hills Chronicles'.
Now, I find these videos to be truly scrumptious, just delightful. You can find 'The Hills Chronicles' on
iTunes
and
Amazon
. To learn more about Kazaky, visit their
official website
, or find them on
Twitter
and
Facebook
.