After an evening of mixed results last week with the music of the Beatles, this week the Top 8 of American Idol Season 12 take on the Music of Motor City, an oddly vague title one would assume describes the Motown sound, the music coming out of Detroit, Michigan. While I am thinking Motown, the vagueness could mean any music coming out of the Detroit area, like Alice Cooper, Bob Seger, Iggy Pop, Madonna or even Ted Nugent. This might be a welcome relief from hearing the same songs from Motown we've heard year after year. On the other hand, maybe not. Guess we will have to wait and see what the American Idol Top 8 have in store for us.
Top row: Angie Miller; Lazaro Arbos; Burnell Taylor; Devin Velez and Candice Glover.. Bottom row: Kree Harrison; Amber Holcomb and Janelle Arthur.
The theme was introduced by Smokey Robinson, who gave us a run down that it was any artist from the Detroit area, which included the rich catalog of the Motown stars, including Smokey. And, of couple of moments later, Crusty is introducing the judges and the Top 8. Crusty let's us know that not only will we be having the Top 8 on solos, but we will also have some group numbers on the schedule.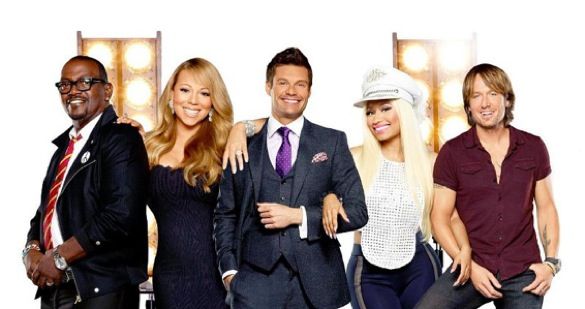 From Left: Randy Jackson, Mariah Carey, Ryan Seacrest, Nicki Minaj, and Keith Urban.
After the break, Crusty told us the great Smokey Robinson will be meeting with the Top 8, trying to give inspiration and guidance for the group. Candice is the first contestant to meet with Smokey, who admits he just loved her, and admitted her "I (Who Have Nothing)" brought him to tears. She will be singing "I Heard It Through The Grapevine", a great song written by Norman Whitfield and Barrett Strong. It first came to the charts when sung by the great Marin Gaye. She puts a bluesy edge to it, and a bit of Aretha as well. There was great grit and depth to her performance, and she brought the audience to their feet just as the first performer should. I fear she worked it a bit too hard, and I wish she just pulled back a bit. The judges just gobbled her up, although Mariah mentions once again she wants to hear her bring us to church with her vocals, since it worked so well for Curtis Finch, Jr. After the break, Crusty announced that Kree & Janelle will team up to take on Madonna. Both girls are excited, and sing "Like A Prayer", having been inspired by a Jennifer Nettles cover of the song. They start out in tune, and the song sounds good, but feels a bit slow, a bit pokey. It just lacked a bit of go-forward. And Kree's voice showed the weakness in Jannelle's, a lack of depth. The judges loved them, although Nicki, Randy, and Mariah thought Kree outshined Janelle, and Keith thought they both sounded great.
Mariah did take a shot at the Producers, remarking the Powers-That-Be like cutting her off. I thought it was because she rarely has anything of use to say. Crusty spoiled the news that Lazaro Arbos will be up next, singing a Stevie Wonder classic. After the break, Crusty gives Smokey a big hug in the audience, giving him time to plug upcoming duets album, and the Motown show on Broadway. Back in the studio, we hear he is singing "For Once In My Life", and both Smokey and Jimmy I tell him he does a great job. Lazaro takes to the stage, opening the song with a simple arrangement, sounding like he picked the right key this week. This is his best performance I have seen by him, as I didn't watch the auditions. It picked up the tempo, bringing it to the more accepted arrangement, and enjoying his time singing. He moved on the stage with confidence. The judges all loved him, and announced he was back. Both Randy and Mariah thought there were a few pitch problems, but I have to admit I didn't hear them myself. Keith just thought Smokey gave him great advice, and Nicki wanted Smokey to be her Sugar Daddy, and that he looked better than men half his age, so sexy with perfect skin. However, I don't think his wife was impressed. Nicki also took credit for his performance, reminding all she told him to ignore Jimmy and just believe in himself. Apparently, Mariah felt the need to step up and tell everyone that Smokey was a legend, responsible for so many hits as a writer and a performer. After the break, Janelle is coming out to sing a great hit by the Supremes. Janelle is excited to be playing her guitar in her own arrangement of "You Keep Me Hanging On", written by the legendary Motown team of Lamont Dozier and brothers Brian Holland and Eddie Holland.
Smokey loved her in the studio, offering a few suggestions to enhance her performance. She slows it up, and added a little calypso touch to it. Her voice sounded fuller and deeper than I have heard her to date. I am shocked at how good she is. Mariah greeted her with a standing ovation, and loved every minute of it. Keith loved it, and thought it brought out emotions no one had mined before. Nicki loved her, but thought she was not as pitch perfect as usual. Randy discounted her, saying it was amazing and her best to date. Following a commercial break, it is Devin's turn to meet with Robinson. We found out he is singing "The Tracks of my Tears", written by Smokey, along with Warren Moore and Marvin Tarplin. Smokey had a big hit with the song. Smokey loves what he does with the song, although Jimmy I isn't as sold. As Smokey told Devin about writing the song, I was reminded of Smokey telling the same story to Adam Lambert. Once again the boy delivers a pitch-perfect performance. He not only pays homage to the original, he also updates the sound with a very current vocal style. I enjoyed it, but am looking to hear what the judges say. Keith is up first, and he thinks it was good, but wasn't sure he felt the entire song. Nicki loved it, and thought he looked and sounded great. Randy loved him, and Mariah thought he was flawless, but might have wished he sung her favorite, "Ooh, Baby Baby". And she wished he might have cut loose a bit, but knows Jimmy likes control better - another shot at Mr. Iovine, who has kept a low profile this episode. Candice, Amber and Angie sing "I'm Gonna Make You Love Me", the great song written by Kenneth Gamble, Leon Huff and Jerry Ross, and made famous by the Supremes and the Miracles. They do well, although once again I thought Candice let her light shine brighter than the other two. The judges greet them with a standing ovation, and loved every minute of the song, and each performance. After the commercial, we learn that Burnell will be singing Stevie Wonder's "Ma Cheri Amour", written by Wonder, Henry Cosby, and Sylvia Moy. Smokey offered a few notes, but loved it. His arrangement is very true to the original by Stevie, but adding some very modern choices in the vocals, saving it from being too boring. He can sing, and made a few sweet choices, but I really wanted more from him, and I think he is capable of it. Keith gives a standing ovation for Burnell's performance, telling us he just loves his voice. Nicki thought he looked fantastic in the white suit, and sounded even better. Randy also loved it, and Mariah thought it was just perfection. After the next break, it was time for Angie Miller to take on "Shop Around", written by Smokey and Berry Gordy. It was the first million seller for Motown. In the studio, there is a rock edge to her version of the song. Smokey encourages her to mix it up a bit, and move more toward the blues.
In the performance, part of the song is lost in the arrangement, as her voice fought with the band, instead of being accentuated by it. She sounded off for much of the song. It didn't really come to life until the final 30 seconds or so, and that had moments of uncomfortable stretch. Randy stepped in to say it was an odd one, having never heard her so pitchy. Mariah loves her, but thought this was not her best performance. She would have liked her to have been at the piano singing "I'll Be There". Keith thought the melody dragged her down, and pulled her off the song. Nicki thought it wasn't the song, it was her performance, her choice to bring it someplace that wasn't organic, wasn't real. She is not a rocker, not a blues singer, she is a singer/songwriter. She needs to own it, for that is where she shines. And Angie just wanted to have some fun with it. That'll teach her, won't it? The next up is Amber, who will be singing Stevie Wonder's beautiful ballad, "Lately". Jimmy mentions she was in the bottom three last week, and both he and Smokey thought she didn't deserve it. I will say I called it, though... As she begins to perform, I feel a bit of nerves as she tends to go sharp in the first few bars. But as she gets into the song, she straightens out the pitch issues, and and builds to a big finish. Mariah comes out with a bad British accent calling it a "tour de force", and then insults the audience thinking we have no idea what that means. Keith loved it, and thought it was beautiful. Nicki loved her, and thought she was amazing. She wants her to get a twinkle back, and forget she was in the bottom last week. Randy called it the best of the night, although I am not sure I'd agree there. Before going to commercial, Crusty tells up that next up we will have the boys, Burnell, Devin and Lazaro, taking on the Four Tops. I have to admit, I am not sure how this trio will gel together. They will sing "Can't Help Myself", written by the brilliant Holland–Dozier–Holland. As they are singing, I thought Devin was the standout, although it wasn't a great performance. Nicki is the only judge allowed to speak, and she hated it, and felt it was like Hollywood week, with the bad group numbers. She was not impressed. Burnell responded that he knew his part, kinda tossing Lazaro under the bus. Devin tried to stay out of the mess, and Lazaro admitted he had trouble learning the lyrics. By the way, Nicki was right. Next up is Kree, who is taking on a song by Smokey's best friend, Aretha Franklin. She will be singing "Don't Play That Song", written by Ahmet Ertegün and Betty Nelson. Smokey loved it, and can't wait to call Aretha and tell her to listen.
Kree went live with it, and took the song from the beginning and made it build just right. She soared on it, her voice sounded amazing on it. Randy thought it might not be the most perfect of the night, but she will be around for some time to come. Mariah thinks she is one of the strongest in the competition, and loved it. Keith loved that she shows how much Soul and the Blues influence Country, and thought she was amazing. Nicki loved her, and the fact she took on two queens tonight, Madonna and Aretha, and lived to tell the tale. She loves her confidence, and her talent. Crusty tosses to the recap, and I am left to think about the performances of the night. My personal picks for the bottom three tonight might anger the judges, but not sure I care. Obviously to me, Angie was the weakest of the night, although I doubt she will be going home. I think Lazaro would be in my bottom three, as well as Amber. That said, I am betting we won't see two girls in there, as they have worked so hard to praise the ladies. So perhaps Burnell and/or Devin should be concerned. And that might lead to a surprise elimination, like perhaps Amber or Devin singing their song of survival. Perhaps one of them should have tackled Nugent's "Cat Scratch Fever", or Iggy's "Lust For Life"...