This is Being Human Season 3 Episode 9 of the SyFy Channel's version of the great series first produced on the BBC. Since the early episodes of the series, the SyFy version, set in Boston, Massachusetts, found a narrative of its own, allowing the ghost, the vampire, and the werewolf to step out of the shadowy constraints of the British original and find a life of their own. I love both series!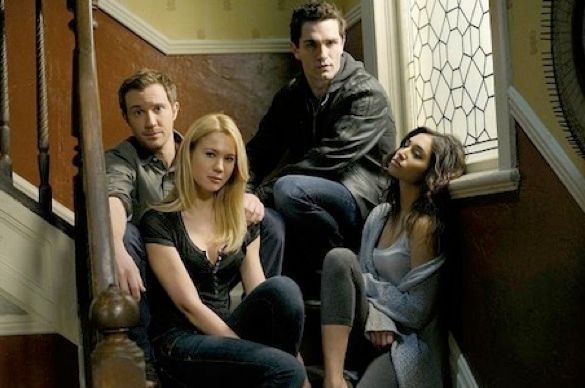 When we last saw them, things were not good for our favorite ghost, vampire, and werewolf. Well, Sally, our ghost, is no longer a ghost, but much like her buddy Nick, seems to have a voracious appetite that includes raw meat. In an attempt to save Nora and Josh, Aiden told Liam McLean that he had killed both his son and daughter, despite the fact Nora killed the daughter. Liam stuck Aiden with infected blood, bringing the deadly virus on him. And Josh, who shot Liam in an attempt to save Aiden, also found himself on the receiving end of a werewolf claw, once again making him join the pack.
The episode beings with Josh sitting with Aiden as he sleeps. The vampire dreams of the time when he left his wife and son to fight the Revolutionary war, promising them he would return. While at war, he was turned by Bishop. Sally comes in with food for both her friends, an omelet for Josh and clean blood for Aiden. He drinks it, and decides to go back to work. He just wants one more day of being normal, but Josh points out the lesions on his face. Aiden then does something that boggles my mind, and checked himself in the mirror. Sally offers to help. Josh steps out of the room, and calls Nora, who is waking up in the woods, naked. She dresses and runs across a naked older man. While talking, she realizes they spent part of the night together, as wolves. Sally is applying makeup to Aiden's face, making him acceptable in public. It is what she learned by working with Max. He is cleaned up, and thanks Sally, before heading to work. We cut to Nora and the naked guy, now wearing Noras jacket around his waist. They are chatting, and Nora seems to be charmed by him, at least some. She offers to give him a ride, and learns he lives in a travel trailer. She heads out on her way. Aiden is at work, and stops by to see Kenny, who immediately figures out Aiden caught the virus. He asks him to change him now, but Aiden refuses, fearing he would transmit the virus to the boy. Kenny begs, for he wants to leave the bubble, and the hospital, but Aiden refuses, and walks away. Sally is brushing her teeth, and accidentally jabs the toothbrush through her cheek. She goes downstairs, looking for food. She hears a mouse, and quickly catches it and eats it.
Sally sets up mouse traps, and Josh sees her, and asks about the bandaid on her cheek. She exits quickly, not wanting Josh to know she is rotting away. Nora comes home, and talks to Josh. HE tells her he was scratched by Liam, and she starts to blame Aiden. Then Josh stops her, to tell her what Aiden did. Sally went up to the bathroom, and discovers when she eats living animals, her body heals. There is no more hole in her cheek, and her hair is back. Nora goes to see Aiden in the hospital, and sends him home to be with his friends, Sally and Josh. Josh is tending to his wound, and is angry. Then he is remembering all the wonderful moments the trio had together, while Aiden is downstairs, thinking of when he turned so long ago. And when his wife caught him drinking chicken blood. Aiden goes back to the hospital, and runs into Blake, and they talk about Kenny. Blake mocks the dying vampire, and pushes him out of her way when he tries to defend Kenny. Elsewhere in the city, Sally walks with Zoe, who is talking to him about Nick. He bit her, and is starting to scare her. Sally identifies, but doesn't give it away to Zoe. Back at the house, Aiden is sitting at the table, talking to Josh, when Nora comes in with her friend Kat. She was worried about Aiden, and Nora thought it would be good for him. Josh and Nora leave them alone, but soon Aiden passes out talking to Kat.They bring him to his room, and Aiden hallucinates, thinks he is talking to his wife. But it is Kat sitting with him. He remembers when he was ailing, and his wife offering her blood to him. Josh comes in, and wants to take care of his friend, and Kat goes home. Elsewhere, Sally talks to Nick, and both admit to eating fresh kill to stave off rot. They are both happy to know it is not just them. Back at the house, Nora and Josh are on the sofa, finally getting a moment to relax. The doorbell rings, and it is the naked guy, come to see Nora. His name is Pete, and brought a crockpot and homemade wine. Josh thinks this is a bad time, but Nora insists he is a nice guy, not like Liam at all. He is pouring wine for them. Back on the streets of Boston, Sally is at a pet store window, and her hungry is so very strong. She sees the mice, and then the cats, and she can barely control herself.
Back at the house, Josh is coming downstairs, and thanks Pete for the tea he brewed for Aiden. He tells of having vampire friends, and the sorrow of watching them die. Soon they are just chatting at the table, telling the kids about his exploits traveling, and his nutty life. His is 39, and tells them he looks older, and it is the wear and tear the change has on the werewolves. Pete mentions they should try meditation, but Josh is not sure. Upstairs, Aiden is getting worse, with thoughts of his family racing through his mind. Downstairs, Josh and Nora are trying to meditate, and Josh is ttransported to the woods. He wakes with a start, and and sees Pete and Nora are still in a trance. Asked what he saw, and Josh tells him just the woods. Pete reminds Josh he has tried to kill his wolf every month, so he needs to be patient before he meets him while meditating. Upstairs, Aiden dreams of his wife, and the way she took him back to her heart. Josh and Sally to upstairs to check on him, and they try to hold him as he begins to convulse. As he stops, his mouth and eyes are filled with blood, and he doesn't look well at all.
A short time later, Nora comes rushing in, and Josh excitedly brings her to see Aiden, who is feeling better. They are talking, and figure it might be the werewolf blood that saved him. But he fears that work of his recovery could put his friends in danger. But those same friends vow to keep Liam away from Aiden. He goes to the hospital to see Kenny, who is overjoyed to see his friend, and is glad to hear their deal is back on. And he asks the kid to make a call for him. Kenny does, and soon Aiden is meeting with Blake, and he offers to give her the cure for the virus, but only if she makes a promise to stay far away from Kenny, and that Nora and Josh are not to be touched. He tells her a sip of werewolf blood is the antidote, and if any vampire goes near his friends, he will rip her head off. When she asks why he tells her this, since he wants nothing to do with the vampire world, he tells her he feels a duty to his fellow vampires, and he is tired of hiding from wolves. He sees one of Liam's henchmen driving off, having seen him.
Back at the house, Sally is chatting with Aiden, amazed at how quickly he recovered from the virus. She then tells him about her eating a mouse, and how it fixed her problems. He is alarmed, and wants to know more. She tells him she won't continue with the live flesh, for she sees a slippery slope she doesn't want to go down. She will live while she can, but won't prolong it. It makes Aiden think of his own slippery slope, and when he last made love to his wife. He talks of wanting her to be with him forever, but she can't, for their son needs at least one parent. But she still loves him so, and doesn't think he is a monster at all. It gives Aiden the inspiration to go see Kat, and kisses her in the hallway. Somewhere in Boston, Blake is meeting with the werewolf checking out Aiden earlier. He is smug, until many vampire come into the space, and he is surrounded. They go after him. Back at home, Josh meditates to get in touch with his wolf. He thinks his wolf is a handsome animal. He realizes he can and should be at peace with his curse. Back at her house, Zoe comes in with groceries, and finds Nick easting a dog. He jumps up and tries to explain, but all that matters is that he is still hungry, and he lunges at his girlfriend. For a preview of next week's action, check out this sneak peak!
Don't forget to tune in at 9PM/8PM Central Monday night on SyFy! For more about the show, visit the official website
here
. You can purchase previous episodes from this season on both
iTunes
and
Amazon
. You can also follow them on
Twitter
, or like them on
Facebook
.