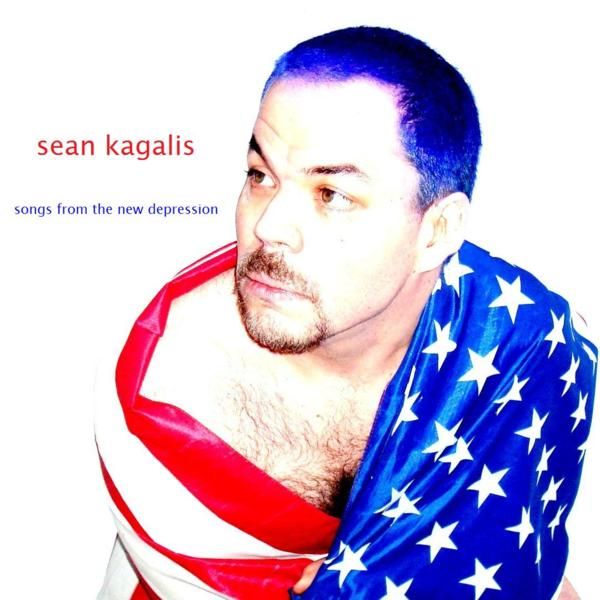 I am beginning to think I owe a decent part of my music collection to J.D. Doyle, his Queer Music Heritage site. This post is no exception, as I first heard about Sean Kagalis from J. D., which made me go looking. I quickly discovered the handsome out and proud singer/songwriter has a new EP out that I posted about a while back, but I wanted to investigate his prior release, 'Songs From The New Depression', out in April of 2011. I am very glad I did, for the album is chock full of joy, I needed to share it with you all.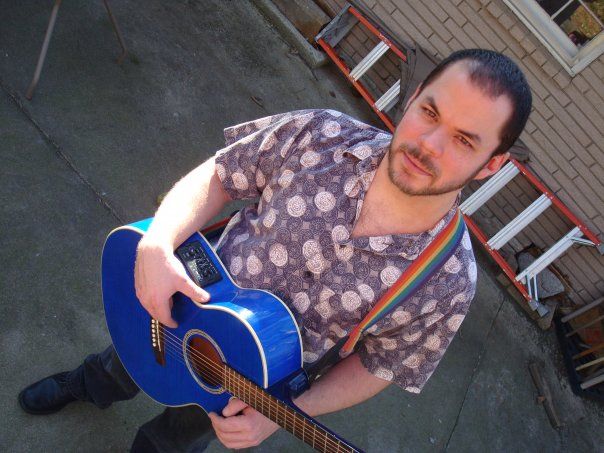 "All Belongs" starts off the album with a bold sound combining a Country feel with bold Folk-style lyrics, talking straight from the heart, reminding us no matter what happens on your journey, it all belongs to the great human mosaic. Next we are hit with a sound reminding me of early-80s New Wave, stripped to the acoustic guitar. On the third cut, "Down The Drain", Sean turns to a bit of Power Folk Rock, a big sound like Bruce Springsteen to tell a folk tale about life in this country in this broken day and age, the powers that be who have allowed the country to go down the drain. With "Okay", Kagalis again points at politicians who just want the people to ignore the problems and issues, and take their word that it will be okay. Next, Sean puts a bit of polish on the Punk sound with "There". While there might not be a shared feeling, Kagalis addresses the shared experience we are having these days in "Going Through". While the journey might be similar, how we handle it sure can vary. Here is a live performance of the first track, "All Belongs."
The vivid & lush Pop feel for "Same" is impressive, and speaks to how we all have problems and issues to face. For "Where To Go", Sean takes a soulful take on a Pop anthem. He asks how we handle life in this difficult time. "Jacked" opens with a ethereal feel that soon shifts into drive with a bold acoustic guitar. The song talks about trusting in yourself. We need to stop putting our power out for the taking. Kagalis offers up "Proof" that no matter how discouraged you might feel, you need to know that it does get better. Just hear the voices of people like Sean (and other LGBT performers) for the proof we can't let the opinions of others hold you down. When the piano starts in on "Cremating Care", I will admit is was a change from the guitar-driven sound. The piano lends a nice weight behind the lyrics, asking everyone to offer love and care to one another, even if some of those in power want to take caring and love out of life. We must remember to look to those who walked before us, not those standing still to form a wall. The piano on "The House" adds a sweeter, warmer tone to the song. Kagalis reminds us that while some might be struggling in this hard economic time, losing property does not mean losing love. Sometimes, the facade must crumble in order to see what is really the frame that holds us up. Our heart, and those we share it with is what makes a house our home. The cacophony that makes up the world around us is at the core of "The Loudness War". No matter the din around us, we must continue to listen to the voice inside. The album closes with "At All", which begins with an elegant piano. The song has an expansive feel as he reminds us that while we all hit jams on our journey, in the big scheme of things, those problems aren't so big at all.
I can tell you for sure that the journey Kagalis took me on with this album was a wonderful one, and I would highly recommend you take it, too. You can find 'Songs For The New Depression' on
iTunes
,
Amazon
, and
CD Baby
. For more about Sean Kagalis, visit his
official website
. You can also like him on
Facebook
, or follow him on
Twitter
. To read my review of his latest collection, 'Legalize It',
click here
.