Sometimes I can be quick to think there was a moment, or an artist that began my infatuation with the singer/songwriter I now hold so dear. To be honest, I am not sure when that switch was flipped, and I discovered the honesty of a performance that comes deep from within when the songwriter delivers their own music. I know I have long listened to people who fall under that umbrella, and still am proud to say do. But one thing I do know for sure is that, at some point while in college, I discovered the music of Carole Bayer Sager. I found it first when discovering her name on the songwriting credits for the music of Melissa Manchester. In fact, she had credits on some of my favorites sung by Manchester, including "Midnight Blue", "Come In From The Rain" and "Home To Myself". So it is no surprise I purchased her first self-titled album, released in 1977.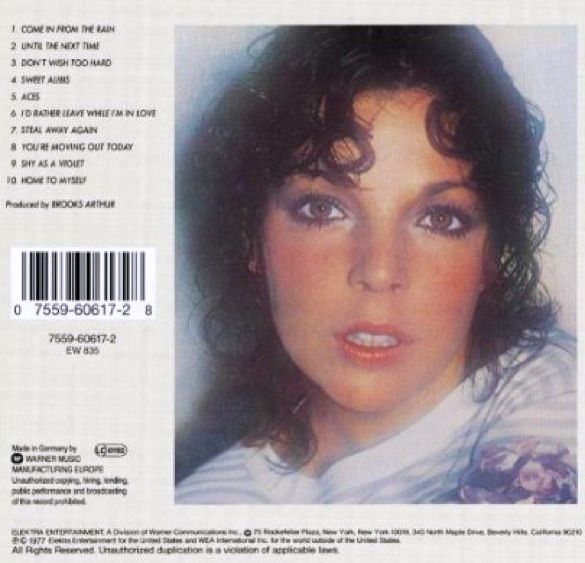 I have to be honest and say I wasn't on the album right away, but a couple of years later. I was so into that album, I quickly went out to purchase her second album, the adorably titled 'Too...', but before her third and final album, the 1981 release 'Sometimes Late At Night'. But back to the first album. I had no idea what to expect, but purchased it on the basis of her songwriting. I was certainly not disappointed. Beginning with the first track, written by Bayer Sager and Melissa Manchester, "Come In From The Rain" opened the collection with a heartwarming moment. The song was sung by Manchester as well as the Captain and Tennille.
While I love all ten songs on the album, I had to pick out just a few so share with you, and least in this post. One of the things I decided to go with is to pick four songs, each with different co-writers that I really respect. That is most certainly the case with the next song, "Aces". I fell in love with this song from the very first time I listened, and felt it touch me. "Aces" was written by Carole and Bruce Roberts, another amazing writer. In fact, on the strength of some of his songs with Carole, I went out and purchased his eponymous debut, another one I love. Please enjoy "Aces".
I knew I had to include at least one of Bayer Sager's collaborations with the late, great Peter Allen, but wasn't sure which I would choose. For those who might not know of Allen, he was the flamboyant Australian singer/songwriter/performer who was discovered by Judy Garland, who added him to her tour. It is then he met Liza Minnelli, and subsequently was married to her for seven years. After they divorce, Allen came to terms with his own homosexuality, and became known on his own. But when I sat down and gave another listen, I decided to go with the beautiful "I'd Rather Leave While I'm In Love". I have always been touched by this song and performance.
Now after having three beautiful ballads, I had to offer an up-tempo song, right? And there might not be a better one that "You're Moving Out Today", written by Carole, with her friends Bruce Roberts and Bette Midler. In fact, it was also recorded by Midler, and after listening, you will know why. This song is just a complete delight, from start to finish. Enjoy "You're Moving Out Today".
Through the years, Bayer Sager was known to have relationships with a few of her collaborators. One of her more high-profile relationships was with songwriter extraordinaire Burt Bacharach. The duo were married for much of the 1980s, and even adopted a son together. In the 1970s, she had a relationship with the late Marvin Hamlisch. In fact, she not only wrote songs with Marvin, they also wrote the Broadway musical 'They're Playing Our Song' based on their own relationship. For more about Carole Bayer Sager, visit her
official website
. You can purchase her hard to find debut album on
Amazon
. That is to purchase of a physical CD, for I don't find her music on any of the digital download systems. But if you enjoyed the music from this post, it would be well-worth the purchase!