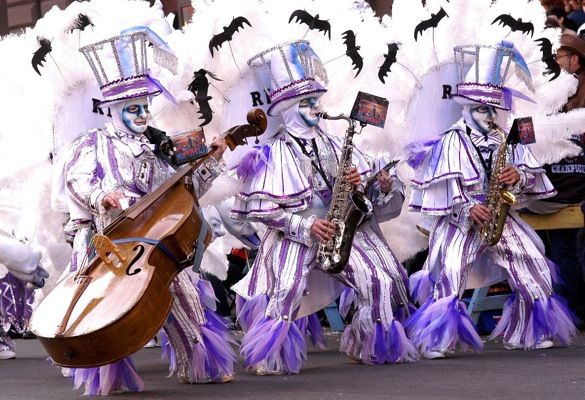 As you can tell from the pictures, the Mummers Parade is a colorful and glittery happening. With the different divisions, from the Comics to the String Bands to the Fancy Brigades, there are more feathers, sequins, makeup and shiny crystals than just about any other event in the world. I remember being hypnotized by the Mummers when I was a child, watching the parade on the television. And I still love watching it, and look forward to the 2013 Mummers Parade.
First, some great news. For the first time, a group of drag queens have come together to perform in the Philadelphia Mummers Parade. That is great news, at least to me. You see, I am old enough to remember when the Parade did not allow women to march in any of the categories, so the female characters were played by men. Eventually, women were allowed to participate, and the great 'art' of drag mummery seemed to be lost. To learn more about one of these Mummers, watch this clip.
Now, to give you an idea what many in the Philadelphia area are watching for much of New Years Day, I have gotten clips of the Top Four String Bands from the 2012 Mummers Parade for your enjoyment. Now, rather than have me make stuff up, how about if I just identify and you watch? Sounds good to me. So let's do it!
Fourth Place - Joseph A. Ferko String Band
Third Place - South Philadelphia String Band
Second Place - Quaker City String Band
First Place - Woodland String Band
For more about the annual Philadelphia Mummers Parade, visit the
official website
.