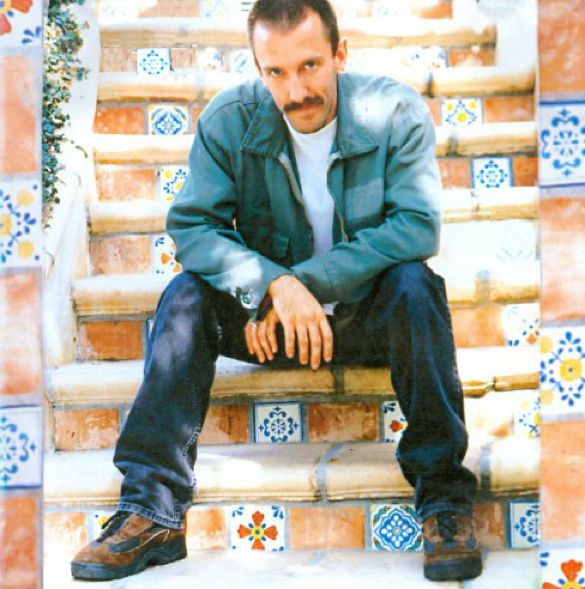 I am a huge fan of the music made by Mark Weigle, and was somewhat saddened when he announced his retirement from making music. Man, I wanted to see and hear him performing live, the rich voice caressing my ear drums with a deft and knowledgeable touch. Yes, I've been a fan for some time, at first wanting to support an out and proud man, but soon just lost in the music. There is such a richness to his tone, and a depth to his emotional tone, his music rocks me. And I have been wanting to share my love for his music with you all, but there is so little video out there, and I thought you really need to experience his voice for yourself to understand just how freakin' good this man is, and what great music he makes. Well, I made contact with Mark through his partner, and asked permission to make a few videos with the music and pictures of Mark, and was delighted I was given a green light. And I also feel confident in allowing you to have your own Weigle epiphany, for I am definite that once you've been exposed to his music, you are hooked for life. Well, I know I am.
I will begin with a cut off his 1998 album, 'The Truth Is'. It has two of my favorite cuts on it, including this first one. With "Two Cowboy Waltz," Mark manages to combine his strong Folk roots with just the right amount of Country, to make this amazing track. I read somewhere that Mark wrote it after he made his first trip to a gay bar that had country dances. It was there he firs saw two men dancing the Country Waltz, an intoxicating view to any gay man just finding their way. Enjoy "Two Cowboy Waltz".
On 'Out of the Loop,' his 2002 album, Mark did a brilliant duet with pioneering out musician Steven Grossman, a decade after we had lost Grossman. Steven was a great musician who was out and proud in the 1970s, and even signed on with Mercury Records to release his debut album, 'CaravanTonight,' released in 1974. The second track on the album was "Out," a beautiful and moving letter to Steven's family about the struggle with being a gay child in society. Mark decided to do a duet, having received permission to not only sing the song, but to use some of Grossman's vocals to achieve the posthumous duet. I love both voices, so this is nothing short of a delectable treat, one that touches me deeply. I made the video for "Out (a duet with Steven Grossman)" using photographs of both Steven and Mark.
Now I will return to the album 'The Truth Is,' at least in spirit. It was on the album that I first heard Mark singing a breath-taking song, "Take Your Shoulder From The Wheel". When I first heard it, I was so touched, and moved. Then, when I purchased his 2003 album, 'Different and the Same,' I discovered the live track, and it was even better. I know, go figure! I fell in love with it all over again, and cannot tell you how many I hit play because that is just what I want to be hearing, sung by that gorgeous voice.
The album 'The Truth Is' can be found on
iTunes
,
Amazon
, and
CD Baby
. The album 'Out Of The Loop' can also be found on
iTunes
,
Amazon
, and
CD Baby
. For more about Mark, you can 'like' him on
Facebook
. And join me in hoping Mark comes out of retirement at some point, if only to do a show I can attend. And if you are good, I bet you can join me.