A couple of weeks ago, I was looking out my window, and noticed there were an impressive number of birds landing on the back lawn. I was so taken aback, I needed to get my camera out and take some pictures through the screen that was between me and the birds. I knew full-well it was time for the flocks of blackbirds to be heading south for winter, so I thought it was only right I would add Sarah Jane Morris' title cut to the 2008 album, 'Migratory Birds' to accompany the photographs. Hit play now...
It wasn't long before the huge flock seem to be on the move once again, with birds taking off as others were still landing on the yard. I wasn't sure where they were coming from, or where they were going. In fact, they seemed to be coming closer and closer to the window, and the noise just kept growing in volume.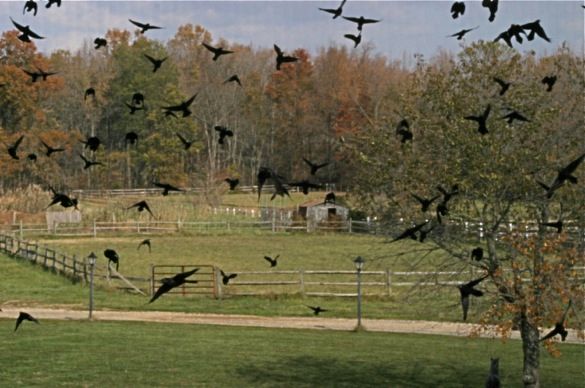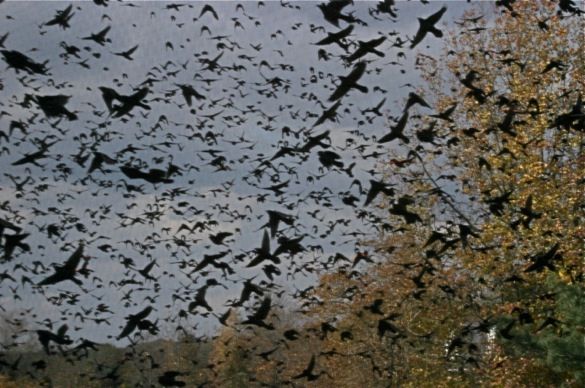 As I stood by the window with my camera to my eye, I swear I was beginning to have some serious flashbacks to watching Alfred Hitchcock's 'The Birds,' as the view out the window grew darker, filling with more and more blackbirds. They seemed to be coming way too close to the house, before swooping up and over the roof.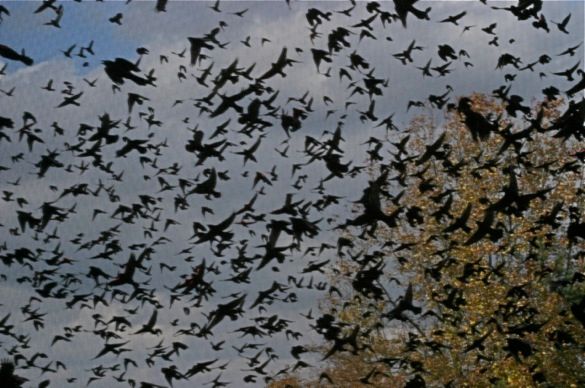 But soon they had vacated the back year, although I continued to hear them, either on the front yard, or on the field across the street. Either way, I have to admit I was breathing a bit easier now they were not filling up my view. And it also gave me the chance to listen to some more music by Sarah Jane, which is always a good thing. Check out "Blower's Song" also off the 'Migratory Birds' album.