Who is Jason Gould, you ask? You can't be serious, right? You must know that Jason is the son of two very talented performers. Yep, he is the song of actor Elliott Gould and the immaculate Barbra Streisand. In October he released his eponymous debut, something I didn't discover until after I posted a clip of him singing with his mother at a concert in Philadelphia. I loved the sound in the video, and wondered how he didn't have any music out. He did. I found it. I fell in love with it. And it immediately made me wonder why this talented boy with clear connections in the music business waited until he was 45 years old to release his music? Well, it seems he wanted to do it all on his own, and for that I have to give him lots of credit. At least that is the story told, that Streisand didn't know he was recording until he allowed her to hear the finished product. Imagine having one of the great singers of the last 50 years, and a renowned perfectionist, listening to your first recording. That must have been interesting, to say the least.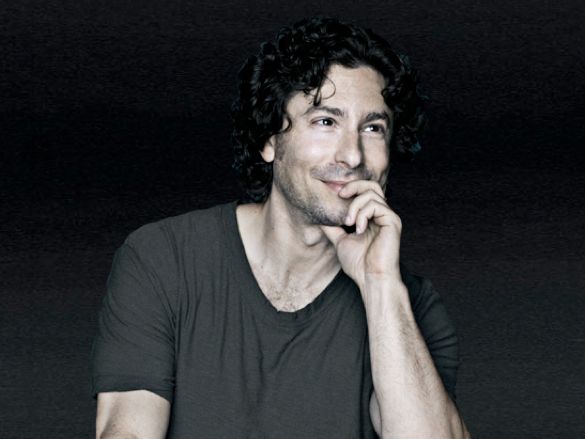 Jason has a warm tone, one that doesn't particularly remind me of anyone else (for all those wondering if he sounds like his mother), but has a sound all his own. Now I've always loved that Streisand has impeccable phrasing, along that that stunning voice. I was happy to hear Jason also has wonderful phrasing - not exactly like his mother, but distinctive and his own. It is clear with this 5-song collection Jason has a connection to the music, and in the credits for the album, he did some of the arrangements.
The first track on the EP is "Morning Prayer," which was written by Jason Gould, Liz Vidal, and Marsha Malamet. This is really a lovely song, and there is a beautiful, haunted quality to it. There is a sensitivity in his voice, which draws me in. The next track is Leon Russell's classic "This Masquerade," an amazing song that has been sung by so many great vocalists, it must be daunting to try to bring your own flavor to it. And Jason succeeds, blending the jazz-tinged acoustic performance with the adult-contemporary tell of the collection. "Hello" is a moody song written by Charlotte Martin, Eric Owyong, and Ken Andrews. There is a real mystical quality to this that I really like. Next Jason takes on the Irving Berlin classic, "How Deep Is The Ocean". The arrangement is sparse and lovely, allowing the emotions to really come to the forefront. The collection closes with another classic, "Nature Boy," written by Eden Ahbez. Once again, there is a hint of Jazz, and it builds with the song. Somehow, Gould have managed to have very simple and stripped back production, yet make is sound very rich. I love it, and it has become a steady part of my musical diet.
Of course, one has to think it must have been interesting for the young, gay Jason, growing up the son of one of the great gay icons. I don't know, but he seems to have survived it all very well. I must repeat something from the earlier post, damn, he looks good. And sounds every bit as good to me. For more about Jason Gould, visit his
official website
. The 'Jason Gould' EP is available for purchase on
iTunes
and
Amazon
. For less that $5, you can't go wrong with this one.