I first discovered the music of Matt Gold in 2012, when I first discovered his album debut, 'Drown Before You Swim'. I enjoyed the album, a collection of 10 piano-driven Pop songs that focused on issues of love and life. With strong singles and music videos for songs like "Oh Joe", "Void" and "Ordinary", the album is strong and oh-so-easy to love. So when I heard he was going to release an EP now, I couldn't wait to hear it.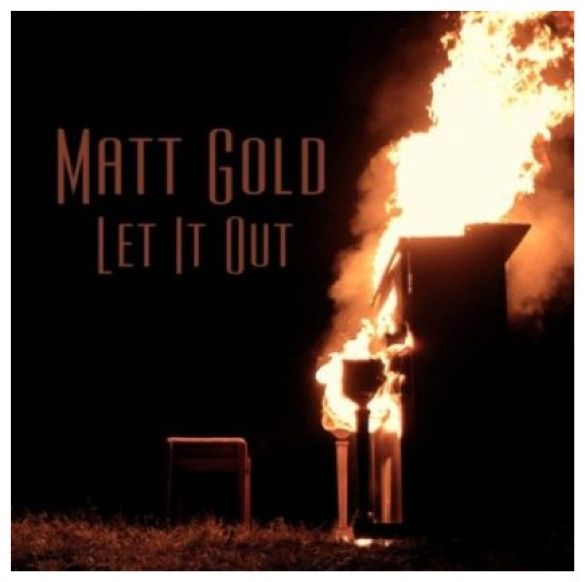 Just last week, Gold released 'Let It Out', a four-song collection that included the already released "Appreciated". The cover features a piano, a lovely upright, set ablaze, lighting up the night. The EP kicks off with "Everything", a moody and brooding song that showcases the strong vocals of Gold. There is a wonderful yearning to the song. That is followed by the sweet and delicious "Appreciated", which never fail to bring a smile to my lips. I hope you enjoy the official music video for "Appreciated", which has been featured on the blog previously.
There is a staid beauty to the beginning of "Permanent Reflection". It carries a classical structure, and a beautiful melody. Matt's vocals are so pure and honest, I find this song so touching. The final track on the EP is the title cut, "Let It Out". The song starts out with a laid back feel, with a softness not found in the others. There are times Gold's vocals sounds like whispers, imploring you to listen closely. Soon it builds to something stronger and sweeter. When the last notes are sung, I have to tell you, I really enjoyed this collection and think you will as well. there is a nice mix of emotions and sounds, keeping me attentive and listening. And as always, Gold has a beautiful voice that never strays from delivering a performance that is on target. You can purchase the EP 'Let It Out' from
iTunes
,
Amazon
, and
CD Baby
. To learn more about Matt Gold, visit his
official website
. You can also 'follow' him on
Twitter
and 'like' him on
Facebook
.