As you can easily see from the photograph above, Kevin Stea is a mesmerizing man, so handsome and so very confident. But there is a reason he should be confident, for the talented man has more than just a pretty face going for him. Stea is well-known as a dancer, having worked his magic in many a video and live tour. He might be best known as one of the dancers seen in the 1991 documentary 'Madonna: Truth or Dare', which chronicled the behind-the-scenes life of Madonna's Blond Ambition Tour. Since that time, Stea has proven to be a multi-faceted performer, adding choreographer, model, actor, singer and director to his resumé, quite impressive indeed.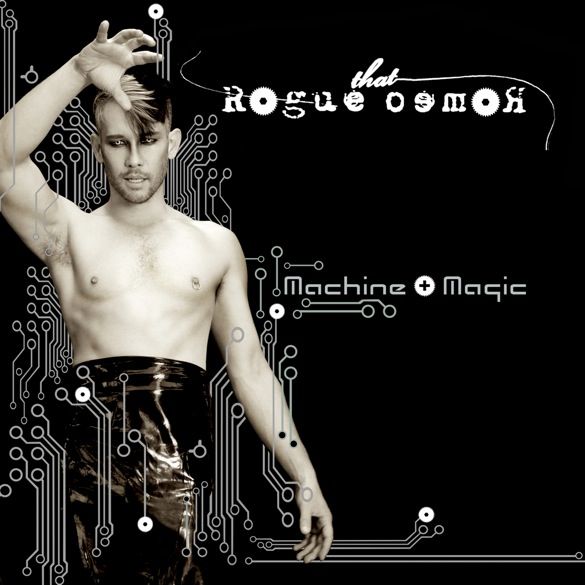 And when I mentioned Stea was a singer, you might not have realized Stea takes on a different personae in his musical incarnation. Kevin becomes That Rogue Romeo when the music starts, an artist that combines all genres of music to create a sound that is really cool and fresh. The sound is Pop at heart, but utilizes elements of Rock, Electronica, Dance, and other classic structures to tell the story he feels impelled to share. And when he combines that with imagery on video, you can see the artist meet a new level, melding the different media to create something sublime. Check out the music video for "Wonderland".
Now, the song and video for "Domino" is a different animal, a dark and stalking creature that immediately gnawed it's way into my heart. So sexy and flirty, the performance is dripping with seduction, matching the song with a strident muscularity that powers throughout. The searing sound of the guitars lends to a Rock sound, adding to the masculine edge That Rogue Romeo offers the listener. Yet there is also the dichotomy of the masculine and feminine, both shown with an edge that is captivating. Enjoy the music video for "Domino".
The opening of "City of Glass" has a classical feel, not only with the staccato feel of the strings, balancing the sound with the Electronica. With all this, he manages to turn the music a bit topsy turvy, with the elongation of the electronic instrumentation adding emotional balance to the warm string tones leading the percussive beat. And the imagery of the music video, putting the cold strength of steel chain with the warmth of fabric that could easily tear just offer up a myriad of ways we are bound through life. Have a great time watching the music video for "City of Glass".
All three songs can be found of the 2012 release, 'Machine & Magic'. It is an album I would recommend without hesitation, for I still find myself enjoying hearing it. With so many textures and tones, it still holds my attention, and keeps me coming back for time and time again. For more about Kevin Stea, visit his
official website
. You can also follow him on
Twitter
, or like him on
Facebook
. To learn more about That Rogue Romeo and his music, visit his
official website
. He can also be found on
Twitter
and
Facebook
. You can also purchase his album, 'Machine & Magic', from
iTunes
and
Amazon
.