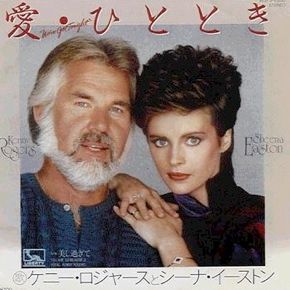 Clockwise: Crystal Gayle & Eddie Rabbitt; Patti Austin & James Ingram; Roberta Flack & Peabo Bryson; and Sheena Easton & Kenny Rogers.
Thirty years ago, it was not unusual to have two stars of the music industry come together to make beautiful music together - literally, of course. There were plenty of duets that years, with several becoming great hits. In 1983, megastars Paul McCartney and the late Michael Jackson released "This Girl Is Mine", a follow-up to their collaboration on "Ebony and Ivory". Jennifer Warnes and Joe Cocker scored a huge hit with "Up Where We Belong", the theme song from 'An Officer and a Gentleman'. And they were not alone. Some crossed genres, while others stayed in their own lane, continuing amazing careers. The first I'd like to feature is a beautiful song by two Country artists who quickly crossed over to the Pop charts. Eddie Rabbitt and Crystal Gayle both had a history of making Country hits, but when they came together to sing "You and I" in 1982, they created a big hit. It was so big, the duet remained on the charts in 1983, earning the #12 spot on the year end chart. Here are Crystal Gayle and Eddie Rabbitt singing "You and I".
Patti Austin and James Ingram both had solid careers in R&B, their stunning voices remaining smooth and lush on every song they put out. In 1981 they recorded "Baby, Come to Me" for Austin's album 'Every Home Should Have One', and had moderate success when released. However, when it became a theme song on a soap, the sales soared two years later. The song was played as a romantic theme for General Hospital's character Luke Spencer. Suddenly, people were requesting the song, and before you knew it, Austin and Ingram has a huge hit on their hands. Here they are singing "Baby, Come To Me".
"We've Got Tonight" was originally written by Bob Seger in 1976, and released by Seger and his Silver Bullet Band in 1978. Like much of his work, the song was gritty and emotional. And it apparently appealed to Country singer/songwriter Kenny Rogers, for five years later, he released his own version of the song, sung by Rogers with Scottish Pop singer Sheena Easton. This was an unusual collaboration, with artists from differing generations and genres, but it was so very successful. Their voices worked well together, and obviously enchanted the public. While Seger's version went to #13 on the Billboard Hot 100, Kenny and Sheena's version rose to #6 on the Billboard Hot 100, and found a home at the top of the Billboard Country chart. Please enjoy Kenny Rogers and Sheena Easton singing "We've Got Tonight".
For the final duet of the evening, I was crazy for everything that singer and songwriter Roberta Flack put out. Her voice was just so amazing, both soft and strong, with a strong depth of emotion. Peabo Bryson was known for his romantic music, beautiful ballads that were often collaborations with some of the most talented voices in the music business. So when they two got together to sing "Tonight, I Celebrate My Love", it took Pop radio by storm, and was quickly in the Billboard Pop Top 20. I remember that time, and this song was incorporated into many a wedding and anniversary party going on. So please enjoy as Roberta and Peabo sing "Tonight, I Celebrate My Love".
I hope the music here brought a little something special to your Thursday night!