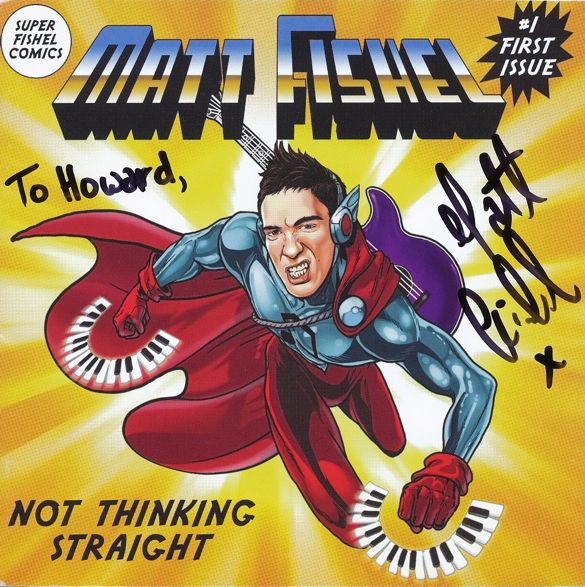 My autographed cover of Matt Fishel's 'Not Thinking Straight'
I have been a big fan of Matt Fishel ever since I first saw the music video for "Football Song", and have collected several singles, an EP, and a wonder album, 'Superfishel Experience', along the way. I love that Matt's music is smart, funny, and still remains honest and very real. And when you pair honesty and smart up so well, it can't help but be kinda sexy, too. Stylistically, Fishel is writing Pop music, but to try to categorize it further might be tough. You can certainly hear influences from timeless Pop to Doo-Wop to Pop with a Rock edge, giving a wonderfully eclectic feeling to his music. And while he tells universal stories of love, loss and life, Matt doesn't shy away from the fact he is a gay man, using that experience to enrich the lyrics.
So when my autographed copy 'Not Thinking Straight' finally arrived, I couldn't wait to put it in a give a listen. I gave a quick glance through the track listing, and saw a few singles I recently purchased, and a few other song titles I recognized. I was still excited to jump into the 13 songs, all teasing me with a title. The first of which is the immensely infectious "Radio-Friendly Pop Song". Matt tells a story about what a young gay might encouter in the music business. But instead of me telling you about it, why not check out the music video for "Radio-Friendly Pop Song"...
The next song is "Testament", a song I purchased as a single last year. The song has a stronger edge, reminding me of some of the great Neo-Punk music that came out of the UK in the 1970s and 1980s, but with a shiny veneer. With the strident guitars coming at a fevered pace, delivering the basic truths about growing up, like not being afraid or of falling in love, even if it is unexpected. There is an inherent sweetness to "Behind Closed Doors", a wonderful Pop song about the hypocrisy we see far too often in the world. Check out this song on this video.
"The First Time" seems rather self-explanatory, you know? We've all had a first time or two, right? For many, they are such amazing memories, a moment marked by some incredible revelations that can lift some of the fear we've all felt. That is followed by "Maybe...", a sweet song that takes a look at our relationships, and wondering "what if..." The sixth track is "Nottingham", which starts off with an ethereal and slightly haunted feel. Once Matt adds his vocals, he tells of friendship, and the things we feel and do when still teens. And, oh, the questions we ask. There is a light and frothy air to the beginning of "Seventeen Again", that soon gives way to some angst-ridden rock in the chorus. Matt looks back at the age when all kids are straining for freedom, and maybe even a little guidance. As the song opens with the sound of a zipper, we know this Doo-wop-inspired tale told in "Armitage Shanks (Jamie)" is more sexual in nature than the brightness of the tune would lead you to think. And knowing the title might refer to a British company that makes bathroom fixtures, you might pick u some commentary about anonymous sex of the young. The next song, "Alastair", tackles a relationship built on more than just sex, even if the singer and Alistair might be trying to figure the terms of the relationship. This is followed by the song I still love, "Football Song". Here is the video, which still manages to warm my heart whenever I watch.
While I admit there is something chilling about the title "Boxer Shorts & Razor Blades", the song itself is not really that scary. It is the Pop take on how to divide up your life when you are breaking up. There is such a sweetness to this song, I find it hard to resist playing again and again. With the opening of "Boys", there is a certain steamy quality, not like sexy, more like something mysterious. The takes a look at forgiveness, especially for relationships that start early on, when we leave ourselves the most vulnerable. As soon as the piano intro kicks in on "When Boy Meets Boy", there is a joyful tone that warms you to the core. For you, "it is a beautiful thing when boy-meets-boy." And speaking of beautiful things, this album is a wonderful journey, touching on aspects of life from teen to adult. The album touches my heart in so many ways, at times making me smile, or give a sigh, or even drop a tear or two. It speaks to our shared histories of love, hurt, and confusion, all part of growing up. Get this album, and listen to early often. You can purchase 'Not Thinking Straight' from
iTunes
and
Amazon
. You can also order hard copies, as well as autographed hard copies of the CD from
Matt's online store
. To learn more about Matt Fishel, visit his
official website
. You can also follow him on
Twitter
, and 'like' him on
Facebook
.