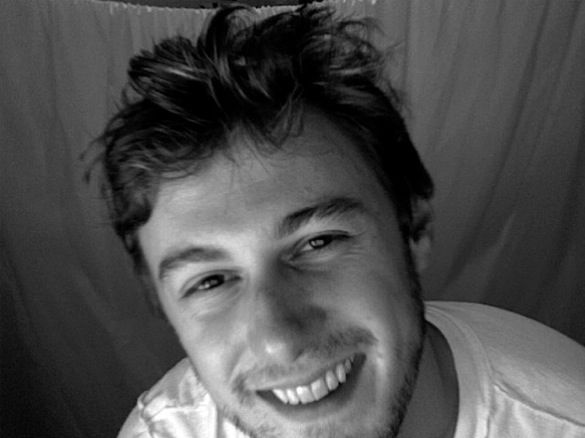 Some days I consider myself luckier than usual, and so it was the day that I got an email from Kevin Allred, and artist I must admit I knew little about. He was sent my way via JD Doyle, and he wanted to send some music for me to hear. And that is when I first heard his album, 'Distractions & Forgotten Songs', a sweet combination of original music and three cover songs, all coming straight from the heart of the Boston-based musician. A cursory look at his website and I learned more, including his good looks and edge reminded me of a young and handsome Bruce Springsteen. Well, the next logical step was to give a listen to the music, which I did.
So, 'Distractions & Forgotten Songs' is a 2013 release, and it starts off with the count at the start of "Distraction", a song that has a wonderful feel of some early Bob Dylan, very personal and confessional, pulling me in closer and closer. There is something very real in his voice, like it is vocalizing his emotions, speaking right from the heart. The next cut is "Irreplaceable", a cover of the Beyoncé song. It is interesting, for his stripped down version of the song carries a bit more production that his first original song, picking up an electronic sound, but pared back so the core of the song can be heard and felt. For the third cut, we return to the original songs with "Through My Fingers". There is a certain feel to the song that makes me think this is a Rock song given a Folk treatment, and it working very well. Give a listen yourself.
I actually get that from Allred's music, a feeling of 'Rock rebellion' with a certain amount of anger and disenchantment running through it, both lyrically and in his vocals. This is definitely true of the next song, "How High", recorded at a live performance. There is a feeling of heartbreak, and yet while there is a hurt, there is never the feeling of resigning, of accepting the pain as anything more than the painful air he is moving through to make it someplace better. There is a beauty in this journey, and being able to hear about it. While on the road, Kevin also addresses love, and how he falls for "Every Waiter". In a world of caffeine and driving to the next destination, he takes a look at the life of a musician, and how that effects him. There is a real beauty to "When It's Gone", with a delicate guitar playing as he sings of his heart being torn apart. Next up is a wonderful cover of Robyn's "Call Your Girlfriend", given a new twist when sung by a gay man. Here is Kevin singing an acoustic version of his take on "Call Your Girlfriend".
There is a somber feeling to the opening of "Playground Alone", when he speaks to the issue of trying to find his way through the day with a broken heart, "trying to find the energy to drink my self to sleep". Love is hard, and it hurts. There is a new tone with "Compromise", when anger really kicks into gear, not quite the easy target he once was, for he is fighting for love. There is a decided brightness in tone for "Beautiful", a very sweet love song. There is such joy in the song, it is so great to hear that in Allred's voice. That is followed up with the third and final cover of the collection, "Runaway" by Kanye West. Kevin plugs in the electric guitar, adding a hard-edged melody to the song. That is followed by "Calculated Risk", with the rhythm carried by the acoustic guitar. The song, which weighs the calculated risk of making that first contact, not a date, but maybe just a cup of coffee. "Just Like Home (Live)" is a happy song for Kevin. I think he might be right, but you can check it out for yourself.
"Waltz" s next, and talks about the dance we all sometimes do, trying to find out footing in a relationship. There is a a real beauty to this song, between the lyrics and a sweet, sweet melody I really loved. And, finally, we have "Packed House", the last cut on the album. It is a very personal song, hinting about his musical process, but really more about a journey, and how we are influenced by the way we see ourselves. Ultimately, I feel hope at the base of this song, as we all dig down deep to keep moving on. 'Distractions & Forgotten Songs' is a highly charged emotional journey, one that Allred freely shares with the listener. He is part troubadour, part confessor, and part angry young man, shaking his fist in the air to injustice. His emotions are raw and very real, easy to identify, and to identify with. To learn more about Kevin Allred, visit his
official website
. You can also 'like' him on
Facebook
, and 'follow' him on
Twitter
. You can purchase 'Distractions & Forgotten Songs' from
iTunes
,
Amazon
, and
BandCamp
.