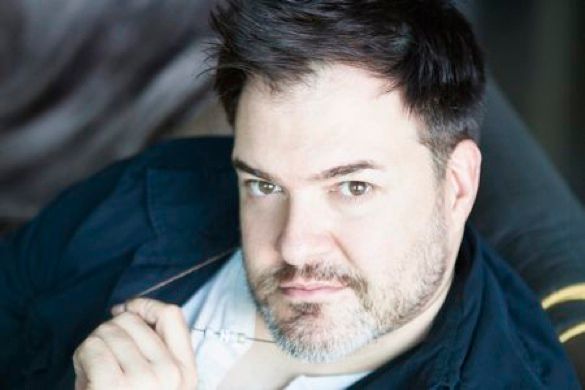 I was so pleased to read the email I received from Lucas Miré, the Atlanta-based singer/songwriter who recently released a new album, 'Following The Landslide'. Lucas wrote me a sweet note, telling me of his third album, and expressed an interest in my giving it a listen and writing about it on the blog. I jumped at the chance, for I am always looking to find new music and new voices, especially in the LGBT community. You see, somehow or another I managed to miss his first two releases, so now would be a great time to catch up. I could not wait to listen to 'Following The Landslide', and excitedly hit 'Play'.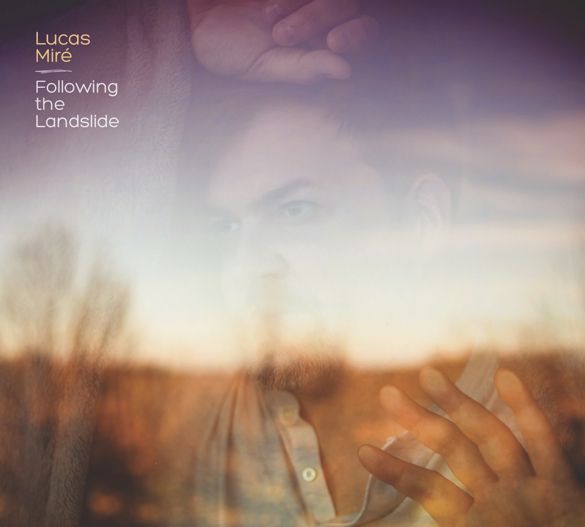 The cover is an interesting shot of Lucas looking through a window, our view of the artist partially obscured by the life outside. The album opens with the ethereal "Going". The track begins with a new age feel, the electronics echoes of life. Soon the sweet sounds of the acoustic guitar break through, as well as the voice of Miré. Check out this song, and be sure to give it some time to develop.
"Going" touched my heart, and I had a feeling there was more to come. There was something much more tangible with "Let It Break", a song grounded in today, with Miré's vocals taking center stage, hitting an honest and naked truth. The chorus reaches in and touches the soul. Next up, "Here" keeps the acoustic feeling, adding a wonderfully uplifting amount of self-awareness and acceptance. This song is just so joyful, giving me a touch of classic Folk of Bob Dylan or Joni Mitchell, when they are having a very happy day. The opening bars of "Comes & Goes", with the haunting cello leading the way, tells me there is a shift. It seems much like our emotions, ideas do come and go. But so far, I have to say Lucas' talent has definitely come on strong. On this track, he allows the softness of his vocal to prove the strength behind it. On the next track, "Blood On Your Hands", Miré is joined by very talented Edie Carey. Together, their voices make some real magic. Give a listen to the song, and be prepared to lose your heart.
The two indie artists manage to bring very different styles to the table, and make something so beautiful. The same could be said for the sixth song on the album, "Blue Ink". This time, Miré is joined by Lucy Wainwright Roche, the daughter of Loudon Wainwright III and Suzzy Roche. Their harmonies on the chorus are just everything to me, managing to seem both strong and vulnerable, having shared some honest feelings with me. It is in the chorus of "Blue Ink" that we find the album title, and allows us to understand just a little bit more. In keeping with the flow, Miré is joined on "ILY" by the wonderful group Girlyman. With both making homes in Atlanta, I hope they find time to work together again, if this is an example of what an happen. The harmonies behind Lucas add a delicious depth to the song. By the end, I am feeling so recharged. There is a delicate and simple feeling to the opening of "My Mother's Only Daughter". Once again, there is a bit of a confessional feel to the song, but no 'mea culpa' offered, just a slice of life dressed with a bit of emotion. There is an instant charm to "Rings", which also features Bo Shell. There is a slight hint of Country in the music, but remains strong Folk. And Bo Shell's voice is so perfect, and so rich, the song just continues to grow throughout. From the start of "You Don't Know", there is a pared down style, with just Miré and the acoustic guitar.
More instrumentation is added for the chorus, offering a momentary respite from the bracing vulnerability Lucas is serving. The look at communication is just so real, I am feeling like Miré has been in a few of my relationships without me knowing. The last cut on 'Following The Landslide" is "Gone", which has a haunting feel, almost wounded. There is something about the inherent hurt in the "Whoa-whoa-whoa, that also allows up to know just how much love can hurt, but why we want it so. I am not sure what I was expecting when I started to listen, but what I got was a journey I really enjoyed. The music is so pretty, which compliments the wonderful grace of Lucas' voice. There is a beautiful arc to the album, more emotional that narrative. Miré, who wrote all the songs, allows us to see him emotionally naked, and we get to see our own heart bared as well. You can purchase 'Following The Landslide' on
iTunes
,
Amazon
,
CD Baby
or
Bandcamp
. To learn more about him, you can 'follow' Lucas on
Twitter
, and 'like' him on
Facebook
.