Australian Anthony Callea has released a new album, and I am damn near giddy about it. 'Thirty' marks a return to Pop music for the talented Australian, a singer I've loved since first finding a video on YouTube almost 9 years ago. The clip so captured my attention I couldn't wait to purchase his first album and have it shipped to me here in the States in 2005. I've been a huge fan ever since. His voice is just incredible, with a great warmth in the tone, with an exciting depth. I could listen to him sing for hours, and will admit there are times I have. So when I heard news of a new album, I was giddy with anticipation. Once again, I knew I'd be spending more of my money Down Under...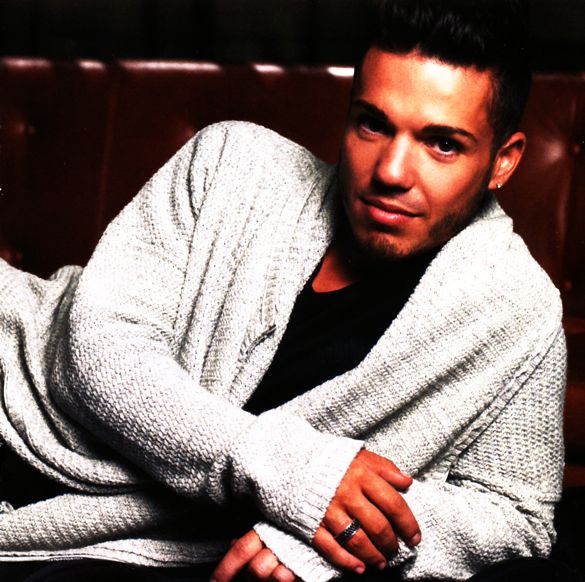 I did learn more about the album, and how it would be a combination of some of Anthony's favorite songs to sing, as well as a couple of originals he co-wrote. They would all be songs that Anthony felt a connection with, a great place to start. So, on April 26, 2013, he released 'Thirty', marking his thirtieth year on the planet. I couldn't wait to hear it, and since my autographed copy didn't arrive, I could not resist the urge, and purchased it from
iTunes
. I felt the goosebumps with the opening sound of the piano on the first song, "Go The Distance". The song was written by composer Alan Menken and lyricist David Zippel for the 1987 Disney animated feature film, 'Hercules'. While it was sung in the film by Roger Bart, the 'Pop' version was sung by Michael Bolton. But Anthony makes me forget all of those versions, and focus on him. In fact, even after hearing it several times, I still get a thrill when I listen. The richness of his voice is just mind-boggling to me. That song is followed by "Leave Right Now", written by Eg White and made popular by Will Young. I remember hearing Young's version and loving it, so I was curious to see what Callea could bring to it. Well, I fell in love with the song all over again, with Anthony's version adding a bit more strength to the song, while still sounding vulnerable. That is followed by the first of the original songs, "My All". Written by Anthony and producer James Kempster, Anthony has said the song was inspired by his partner of of the 5 or so years, Tim Campbell. An so Anthony did ask Tim to make a cameo appearance in the video, so check it out.
The song is amazing, and the video captures it perfectly. Next up is "Di Sole e D'azzurro", the first of two songs he dedicates to his Nonna and Nonno, who have asked him to sing songs in Italian for them. The song, written in 2010 with lyrics by Zucchero and music by Matteo Saggese and Mino Vergnaghi, is a beautiful fit for his voice, and allows him to soar. But first, he allows the melody to charm us with a delicate arrangement. But soon, he allows us to ride with him on his journey through the clouds. I have seen a clip of Anthony singing the next song, "Get Here", as a duet with Tim. And while I loved it, I am so happy he recorded it as a solo. The song was written by American singer/songwriter Brenda Russell, and it became an international hit via a 1990 recording by Oleta Adams. The song allows Anthony to balance the delicacy of the melody with the strength of the emotions. Check out Anthony singing the song live on Australian morning television.
I am surprised I can recognize names of Australian artists that might not have the international exposure, but after following Anthony for so long, I shouldn't be surprised. In the next cut on the album, Anthony sings the great hit by the iconic band Heart, "Alone". He is joined on the duet by Susie Ahern, whose name I recognize from reading about Anthony singing live all these years. Her voice is stunning, and she can really not only hold her own, but step up while singing with Anthony, which can't be easy. The song was composed by Billy Steinberg and Tom Kelly, and a big hist for the Wilson sisters of Heart in 1987. Anthony wrote in the liner notes about being inspired by some talented American singers, including Luther Vandross. So it is only natural he would take on one of his songs, and the one he picked was the 2003 classic, "Dance With My Father". The song, written by Vandross with Richard Marx, is a delicious fit for Callea, the richness of his tone just exuding the warmth needed for it. Next we have the second song penned by Anthony, "I'll Be The One". He co-wrote the song with Adam Reily, and it is a beautiful and honest story of love. There is just an incredible amount of strength and heart in his vocals. There are just moments when his voice finds the exact right moment to break, to draw me even further in. With the next cut, Anthony takes on not only one grand diva, but two. He sings "When You Believe", written by Stephen Schwartz for the 1998 Disney animated film, 'The Prince of Egypt'. The song was recorded by Mariah Carey and Whitney Houston to run over the credits, and to be the Pop single, and was a hit worldwide. Anthony would know the song, as he opened for Houston on her last tour of Australia, and got to hear her firsthand. This is Anthony singing "When You Believe".
He really surprised me with the next song, "The Flame". The song was written by Bob Mitchell and Nick Graham, and released as a single for Cheap Trick in 1988. The song went to number 1 on the music charts in the US, Canada, and in Australia. Anthony's take is different, needless to say. His version is a midtempo ballad, not the bombastic rocker power ballad of the original. It turns out the melody is quite lovely, and allows Anthony room to soar. That leads to a hit from 1999, "The Perfect Fan". The song was written by Brian Littrell and Thomas Smith, and a hit for the Backstreet Boys off the album 'Millennium'. In Anthony's hands, the song becomes more confessional, sounding like an honest message from the singer to his fans. For the final cut off the album, Anthony offers up another song for his grandparents, and sings the classically-inspired "Nella Fantasia", from the 1986 film 'The Mission'. The song has music by famed composer Ennio Morricone and lyrics by Chiara Ferraù. Anthony seems to slip easily between the Pop and Classical genres, his vocal instrument so adept of both. The song starts out soft and sweet, and builds to a wonderful crescendo, leaving me enchanted. And that is the album, from start to finish. As expected, Anthony offers up flawless vocals that can soar and inspire, as well as being able to softly caress the heart. I can tell this is yet another Callea album I will be playing for many years to come.