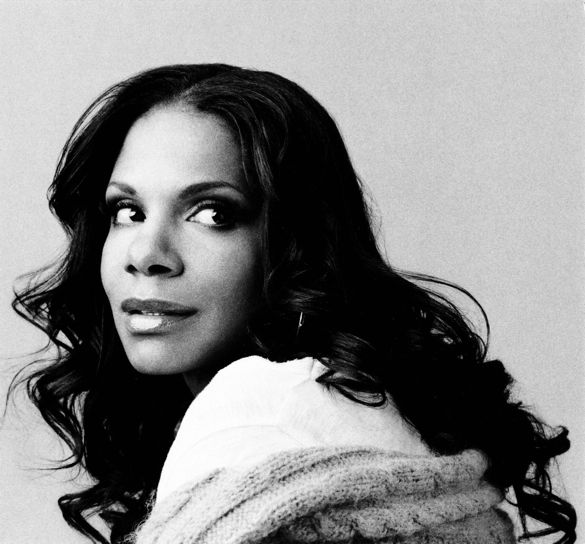 When it comes to Audra McDonald, I just can't seem to help myself. Her voice is so pure, I can listen to whatever she sings. So when I heard she was working on another album, I we beside myself with excitement. I have her others, and I think 'How Glory Goes' is a beautiful collection, one I still listen to often. I am not the only one fascinated by the lady, for Audra has won 5 Tony Awards, an incredible accomplishment. Her latest win came in 2012, when she took home the Tony for 'Best Leading Actress In A Musical' for her stunning portrayal of Bess in the 2011 revival of 'The Gershwins' Porgy and Bess', directed by Diane Paulus. She also won a Drama Desk Award, a Drama League Award, and an Outer Critics Circle Award. So once I received my copy of 'Go Back Home', I couldn't wait to give it a listen!
'Go Back Home' is a collection of songs written by Broadway composers, including both well-known writers as well as some new faces to the genre. While most people know John Kander and Fred Ebb from hit shows like 'Cabaret', 'Woman of the Year' and 'Chicago', Audra went to the 2010 musical 'The Scottsboro Boys' to find the title song off the album. This is a gorgeous song, and McDonald sounds great on it. Listen as Audra shows us sometimes less is more with "Go Back Home".
The next song is a familiar one, from a well-known source. "The Glamorous Life" was written by Stephen Sondheim for his wonderful musical 'A Little Night Music'. McDonald's voice just dances on this one, her voice so light and airy. Her control allows her to do so much with the gorgeous song. The next song is from a less-known but so talented Zina Goldrich & Marcy Heisler. There "Baltimore" offers some dating advice for all to hear. Next we return to the John Kander & Fred Ebb, this time through their Broadway musical 'Steel Pier'. "First You Dream" is a beautiful and soaring ballad, and perfect for Audra. For "Tavern", composer Will Reynolds set a poem by Edna St. Vincent Millay to music, and the result is lovely and ethereal. And it also truly touches my heart. Although composer Adam Guettel might be best known for his work on 'The Light in the Piazza', he has written for several Broadway shows. He also composes Classical compositions. McDonald sings "Migratory V", from his song cycle 'Myths and Hymns'. The song is really lovely, and is performed perfectly. In the liner notes, McDonald mentions that composer Michael John LaChiusa is working on a new musical, based on an ABC book written by Marlene Dietrich. Both "Virtue" and "Married Love" are slated for that musical, but Audra gives a sneak peak. "Virtue" has a light and lilting feel, while "Married Love" is more narrative about love over a lifetime, and McDonald can tell a story when she sings! Also in the liner notes, Audra says after hearing the firs ten bars of "I'll Be Here" from Adam Gwon's musical 'Ordinary Days', she knew she wanted to sing it herself. This is a really sweet song about finding love in New York City. When McDoanld was offering another Tony-winning performance in 'Ragtime', she got to know composer Steven Marzullo, who played piano in the orchestra. Lucky thing, for he wrote the music for "Some Days", which used the James Baldwin poem for lyrics. Listen as Audra sings it for you.
That was just stunning, and Baldwin's lush language a fitting partner to McDonald's rich voice. That is followed by another brilliant piece. Richard Rodgers & Oscar Hammerstein II wrote the score for the 1959 Broadway musical 'The Sound of Music'. One of those songs, the lovely "Edelweiss" , is included in this collection, with a beautifully pared back arrangement that showcases the inherent beauty of the song as well as McDonald's voice. For the album, Audra points out she was accompanied by her husband, fellow-Broadway star Will Swenson, so played the guitar. Check out this clip of Audra singing "Edelweiss" live.
While some might think the final song on the album to be a classic from the Great American Songbook, "Make Someone Happy" also started out as a part of a Broadway musical. It was written by Jule Stye, Betty Comden & Adolph Green from the 1960 Broadway music 'Do Re Mi'. Interestingly enough, the musical itself was met with lukewarm notices, but it gave the world this song, which went on to be sung by the greats, like Tony Bennett, Judy Garland, Aretha Franklin, and now, Audra McDonald.
This album is just so beautiful, I can't recommend it highly enough. It is just the right mix of familiar songs with new ones, never failing to keep my attention. The material is so uplifting and joyful, and at times hysterical. And McDonald delivers it with a deft touch, combining her flawless vocals with the emotions needed to make each and every song come to life. You can purchase 'Go Back Home' from
iTunes
and
Amazon
. For more about Audra McDonald, visit her
official website
. You can also 'follow' her on
Twitter
, or 'like' her on
Facebook
.