I've been a fan of Robert Urban's music for some time, and anyone who knows me well knows I do love me a yummy rocker. And Robert certainly fits into that category. I have been insane over his 2003 release 'Rock Widow', and mesmerized by 2000s 'Elegies'. His music is sometimes raucous, sometimes anthemic, and sometimes very personal, but always something I wanna listen to. So when I heard from Robert he had a new music video, I was thrilled to push play.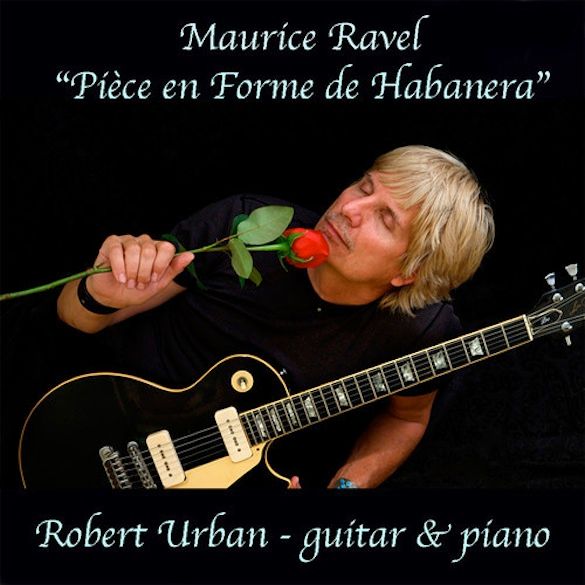 In 1928, Maurice Ravel wrote his best known work, 'Boléro'. That was perhaps best known in pop culture when featured as a sexy soundtrack to Bo Derek's movie '10', and the amazing background to the brilliant perfect Ice Dancing performance by England's Jayne Torvill and Christopher Dean. Twenty-one years before, he wrote another piece, this one for bass voice and piano. In 1907, Ravel wrote "Pièce en Forme de Habanera", a gorgeous and lush classical piece. Robert has re-imagined it, and it has been arranged for electric guitar and piano. This is the music video for "Piéce en Forme de Habanera", with Urban on electric guitar.
"Piéce en Forme de Habanera" was recorded as part of 'On Guitar', an instrumental album featuring Robert on electric guitar. At this point, it is only being streamed on
Soundcloud here
. Although it isn't available for purchase, you can find the rest of Robert's music on
iTunes
and
Amazon
. I have all the albums, and love when he rocks me out. If I were to pick a favorite, I'd go with 'Rock Widow', but you can't really go wrong with any of them. For more about Robert Urban, visit his
official website
. You can also 'friend' him on
Facebook
, and 'follow' him on
Twitter
.