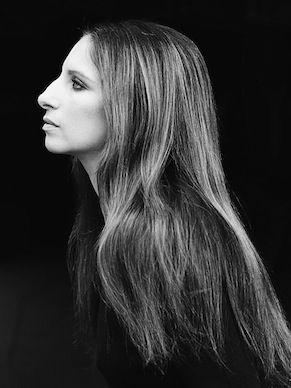 Clockwise: Julie London, Etta James, Barbra Streisand, and Judy Garland.
It is Valentine's Day, so how could I not choose some of my favorite voices to sing about love? I decided I wanted to go with some live performances, which ruled out a few of them, but that actually made my job easier. I will start with a favorite of mine, as I remember hearing her music while I was growing up. Julie London could be heard playing from stereo when I was young, for my Mother loved listening to her. To this day, it warms my heart to even hear her voice. This is Julie London singing "Let There Be Love", with music by Lionel Rand and lyrics by Ian Grant, published in 1940.
If you are feeling romantic, how can you not think about the great song written by Mack Gordon and Harry Warren, and sung to perfection by Etta James? The song was written for the 1941 musical 'Orchestra Wives', and was performed in the film and on record by Glenn Miller and his orchestra, with vocals by Ray Eberle and Pat Friday. Nearly two decades later, it was recorded by James, and it became a hit for the singer. This is Etta James singing "At Last".
Next up, I picked a French popular song, with written by Léo Chauliac & Charles Trenet, first recorded by Trenet in 1943. "Que reste-t-il de nos amours?" was a hit in France, and used many times in soundtracks for French films. English-speaking audiences knew it was after new lyrics were written by Albert A. Beach, and it was introduced in 1957 by Keely Smith. That was when "I Wish You Love" became a world-wide hit, with many of the great singers recording their own version. I chose one by the great Judy Garland. She just had a way with songs that spoke to tortured romance, didn't she? This is Judy singing "I Wish You Love".
Finally, I thought I would offer one of my all-time favorites, Miss Barbra Joan Streisand. In a medley that features two spectacular songs, Barbra sand them at her 'Back to Brooklyn' concert recorded in 2012, when Streisand was 70 years old. And damn, she sounds and looks amazing! She is joined by handsome Chris Botti on trumpet on "What'll I Do", a song written in 1923 by the great Irving Berlin. For her second classic song, Barbra adds "My Funny Valentine", from the Richard Rodgers and Lorenz Hart musical 'Babes in Arms' from 1937. That song was also included on the 1967 release, 'Simply Streisand'. I just couldn't let Valentine's Day go by without including it on the blog. So this is Barbra Streisand singing "What'll I Do/My Funny Valentine" featuring Chris Botti.
Happy Valentine's Day!