In April of 1971, David Robert Jones was in a studio in London, recording his fourth album, and to be honest, I barely knew who he was. At this point, I was all about Barbra Streisand, the Carpenters, and other Pop music. A few years later, when I hit high school and started broadening my musical base, and getting interested in Rock music. So I was a few years away from getting to know the music of David Bowie, but he didn't wait for me to catch up before releasing the amazing
Hunky Dory
the week before Christmas in 1971, and for many, changing the face of music.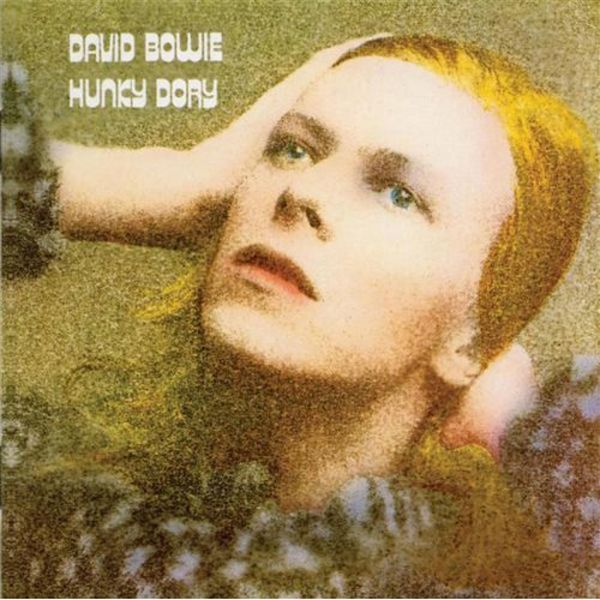 Bowie was already well on his way, having already released
Space Oddity
and
The Man Who Sold The Earth
, both fantastic albums and title tracks I came to know later. This was around the time Bowie announced he was bisexual, although he would deny he was anything but heterosexual in 1983. At this point, Bowie was honing his image as an androgynous Rock Star, all glammed up with fanciful make-up and exotic costumes.After all, his next album would be
The Rise And Fall of Ziggy Stardust And The Spiders From Mars
, an iconic period for Bowie to be sure. The album kicked off with a splash, when "Changes" hit the airwaves. Forty years ago, in 1972, the release made it to #66 on the US Hot 100, while the 1975 release with the
ChangesOneBowie
greatest hits collection made it to #41. Here is Bowie performing "Changes" live.
While not an official release from the album, "Kooks" a complete surprise, for it was just incredibly charming and sweet-natured, written for Bowie's first child, Duncan Jones, often referred as Zowie Bowie. The relationship with his mother didn't last long, and Duncan Jones went on to be a respected British film director. And he had this song to remind him of his father's loving thoughts when he was born.
Honestly, one of my favorite songs off the album was the second single, "Life On Mars". Anthemic in nature, it is really a loud and clear call for all the disenfranchised out there, those that might not fall under the description of "normal" or average, to realize they were not alone. Bowie's use of vivid imagery in the lyrics, combined with a fantastic melody still makes this one of my favorites.
There is something about "Oh! You Pretty Things" that I find irresistible. I mean, it starts with that wonderful acoustic feel, just a boy with his piano, and maybe just a bit of guitar. But on the chorus, the band kicks in with an iconic sound, just amazing. Check out this live performance of the song on the BBC program
The Old Grey Whistle Test
.
It was during the making of
Hunky Dory
that the band that would soon be known as The Spiders From Mars came together with Bowie. They were guitarist Mick Ronson, pianist Rick Wakeman, bassist Trevor Bolder, and drummer Mick Woodmansey. It was also the first album produced by Ken Scott, who went on to produce a seriously impressive line up of talent. You can find
Hunky Dory
on
iTunes
and
Amazon
.