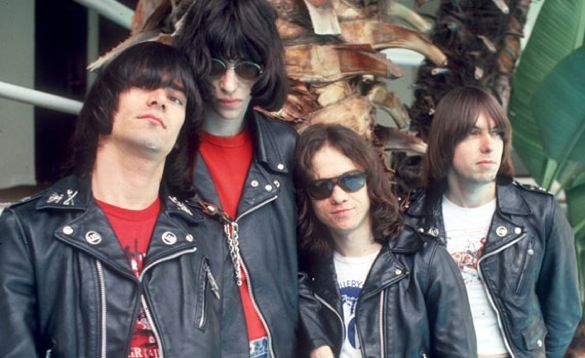 The Ramones: Dee Dee Ramone, Joey Ramone, Tommy Ramone, and Johnny Ramone.
Last month saw the passing of Tommy Ramone, the last surviving original member of the seminal Punk band, The Ramones.With that in mind, I thought I would revise a post I wrote almost five years ago, kicking of the weekend with the band.
I spent way too much times at parties that were not complete until the Ramones played over the sound system, especially "I Wanna Be Sedated". The song was released as the B-side of "She's The One" in 1979, and became an instant classic at least at my college. Taken from the 1978 release 'Road To Ruin', it was classic Ramones, with a speedy, driving beat and a punky salute to the music of the 60s with an eye on the future. Johnny, Joey, Tommy and Deedee Ramone [a family not really related, but all adopted the Ramone surname] were a force to be reckoned with, although it took another decade before a single would actually appear on the US Billboard charts. This is The Ramones with "I Wanna Be Sedated".
Their first single, "Blitzkrieg Bop", was also a song that played at many a party in those days, and was signature Ramones, pure 70s punk. The song had speed, a wall of guitars coming at you, and an irreverent point of view certain to piss off any parent in hearing range. This is the official music video for "Blitzkrieg Bop" by The Ramones.
However, the Ramones reached a certainly plateau with the release of the the cult classic film 'Rock N Roll High School' and their single of the same name. It was the follow-up to "I Wanna Be Sedated", and was certainly flooding the college campuses across the nation. This is the music video for "Rock N Roll High School" from The Ramones.
All these songs can be found on the album 'Hey Ho Let's Go: Greatest Hits', available for purchase from
iTunes
and
Amazon
. For more about The Ramones, visit their
official website
. You can also check them out on
Facebook
.