Eighty years ago, in 1934, a movie was released by Columbia Pictures. 'Twentieth Century' was directed and produced by Howard Hawkes, starring John Barrymore and Carole Lombard. The screwball comedy was a tale of Hollywood shenanigans, set on a transcontinental train. Based on a 1932 play of the same name by Ben Hecht and Charles MacArthur, who adapted it for the screen. The movie was a delightful romp, but had really been forgotten. But not by everyone. Betty Comden and Adolph Green remembered, so much so they decided to write the book and lyrics, They wanted Cy Coleman to join them, but he was unsure he wanted to write a show highlighting the music of the Jazz era of the 1920s. But once he learned about the show, he was on board. Instead of being light musical fare, he felt it was more of a comedic opera, which intrigued him. The cast featured John Cullum, Kevin Kline, Imogene Coca, and rising star Madeline Kahn.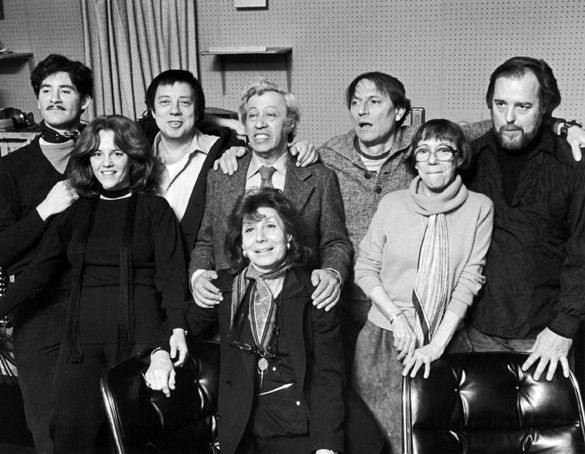 (l to r) Kevin Kline, Madeline Kahn, composer Cy Coleman, lyricists Adolph Green and Betty Comden, John Cullum, Imogene Coca, and musical director Paul Gemignani.
The book tells a story of Producer Oscar Jaffee, who is down on his luck and looking for his next project. To help with funding, he pursues Lily Garland, and actress he discovered years before. She is now a Hollywood star, and dating heartthrob Bruce Granit. He hopes to convince her to drop Hollywood and Granit, and return to Broadway in his new production, 'The Passion of Mary Magdalene'. Along the way we get to meet the porters, conductors, Hollywood characters, and religious zealots, all making for an excellent Operatic farce. The production was nominated for nine Tony Awards, with one for Best Musical. The show won five of the nine Tony Awards, including ones for John Cullum and Kevin Kline. This is the performance from the 1978 Tony Awards, the title song. The performance features stars Cullum, Kline, and Coca, as well as Judy Kaye in the leading role.
Nine weeks after opening, Madeline Kahn left the show, and her understudy, Judy Kaye took over the lead role of Lily Garland. The official press release stated Kahn left the show because of damage to her vocal chords. Rumors floated about her being fired for being tough to work with. Years later, costar John Cullum, stated that composer Cy Coleman did not get along with Kahn, and the production on a whole didn't treat her with the respect she was due. He felt she was magical on stage, and was sad she was lost by the production. I thought I would bring you a song by Kahn, one of my favorites off the Broadway Cast album, which I purchased and fell in love with. The song allows the audience to share the moment Jaffee discovered Mildred Plotka. While auditioning a fading star, Oscar asks the accompanist, Plotkin, to sing the song "Veronique", about the French heroine who refused to sleep with Otto Von Bismark, starting the Franco-Prussian War. He found a star, and gave her a new name. She would be known as Lily Garland. This is Madeline Kahn singing "Veronique".
In an odd move, when Kaye was put in place, the producers invited the press back to the show, as if it was a second opening night. They also submitted Judy Kaye for a Drama Desk nomination, not original star Kahn. Kaye got great reviews, and The New York Times even said she was "bang, boom, overnight she is a star star". Kahn had much success in films, like 'What's Up Doc?' starring Barbra Streisand and Ryan O'Neal, as well as the Mel Brooks' comedies 'Blazing Saddles', 'Young Frankenstein', and 'High Anxiety'. She was nominated for an Academy Award for her roles in 'Paper Moon' and 'Blazing Saddles'. You can purchase 'On The Twentieth Century' from
iTunes
and
Amazon
. For several years, there has been talk of a revival. It is said that the show will be remounted by the Roundabout Theater Company, starring Kristin Chenoweth and Peter Gallagher, beginning previews in February of 2015.