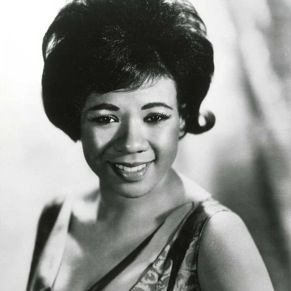 Clockwise: Little Peggy March, Brenda Lee, Patsy Cline, and Barbara Lewis.
Tonight I turn back the clock, and picture myself sitting in front of the high fidelity record player in 1963. Yes, that was 51 years ago, and, to paraphrase Bob Dylan, "The times, they were a-changin'" Pop music had been something of an adult contemporary playground, with music aimed at adults. But since the late 1950s, music was more and more aimed at the kids, not the parents. And in these songs, you see songs aimed at the different audiences. My first song of the evening was first recorded in 1961, an instrumental recorded by French conductor Franck Pourcel. He had co-written "Chariot" with bandleader Paul Mauriat. Soon, lyrics were added to the song, adapted from a song with lyrics by Jacques Plante. Singer Petula Clark had a hit with Italian and French versions of the song. By 1963, Norman Gimbel translated the lyrics, and 15-year-old Little Peggy March recorded it. When it went to #1 on the Billboard Hot 100, she became the youngest female to top the chart. This is a video of Little Peggy March singing "I Will Follow Him", with augmented audio.
Next up, we have an artist who was only 19, but was already a household name. In 1960, Brenda Lee has a #1 song on the Billboard Hot 100 with "I'm Sorry". In 1963, she released a song written by Jean Renard and Carl Sigman, "Losing You". The song is a lovely ballad, and the recording was produced by the great Owen Bradley, a driving force in Country music in the 1050s and 1960s. While Lee was a Pop star, she was recording in Nashville from the start, and soon shifted her music to a Country feel. And this song went to #2 on the Billboard Adult Contemporary chart, as well as #6 on the Billboard Hot 100. This is Brenda Lee singing "Losing You".
Our this song of the evening was written by the talented young woman who sang it. Barbara Lewis was just 20 years old when she released "Hello Stranger", a song that combined the smoothness and sexy nature of R&B, while maintaining some of the Pop feel the kids were looking for. The song spent two weeks atop the R&B chart, as well as making it to #3 on the Billboard Hot 100. I just love the song, but realize Lewis is best known for a song she released in 1965, "Baby, I'm Yours". To tell you the truth, I think I like this one better. I hope you enjoy Barbara Lewis singing "Hello Stranger".
You might say I've saved the best for last. Well, in this case, it was the song which inspired the post. You see, when I was trying to decide the theme of the night, I started looking at YouTube, and the songs of Patsy Cline. I quickly figured out this was a song I hadn't featured before, but that can no longer be said. "Leavin' On Your Mind" was written by Wayne Walker and Webb Pierce, and made famous in 1963 by Cline. And like Brenda's song, this one was produced by Owen Bradley. But it also had the distinct advantage of being sung by one of the greats at the time. I just love her voice on this song, so rich and so full. This is Patsy Cline singing "Leavin' On Your Mind".
Have a great weekend!