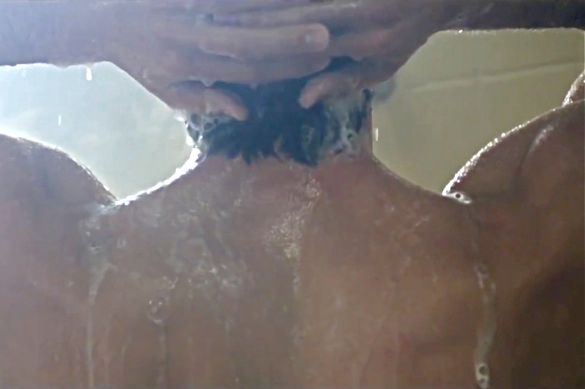 Images in the movies 'Triple Standard', top, and 'Wastelands', bottom.
I thought I would offer up a more traditional date night, including a Double Feature. So here we go with two wonderful short films, the first just over nineteen minutes, and the second just over thirteen minutes. And both are the work of talented men at the helm, taking care of both writing and directing these beautiful stories. 'Triple Standard' is a 2010 short film written and directed by William Braden Blin, who also at the helm of the last 'Date Night' film, 'Thirteen Or So Minutes' which you can see
HERE
. The film focuses on what happens when a bunch of jocks playing basketball when the homophobia of one threatens his relationship with another, and how it hurts no matter how much you care about the person dropping hate in your life. 'Triple Standard' stars Lee Amir-Cohen and William Jennings, as well as several other gorgeous men.
For this intermission, I thought I would run a wonderful Public Service Announcement by director Paul Bright, and featuring the very handsome Matthew Charles Burnett and Jon Gale.
'Wastelands' is a 2013 short film written and directed by Marco van Bergen, and filmed in the Netherlands. It takes a look at young love, and how painful it is to learn not everyone has sex because they are in love. I can tell you as I was watching, I identified closely with the story, and with Marc in particular. 'Wastelands' stars Frederik Stuut and Daniel Brak.
Hope you had a great time at the Date Night Double Feature! I found both films to be wonderful, the work of talented casts and crews. If you did too, I hope to be posting more great films by clever members of the LGBT community!