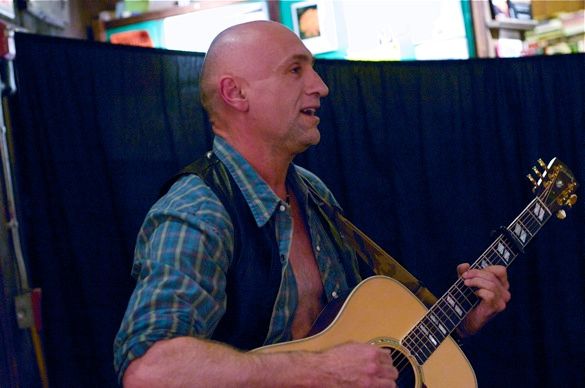 I was lucky enough to attend Dudley's Saunders live show in Washington, DC, on October 12, 2012. Dudley played at Potter's House, a veritable landmark in DC, an established book store coffee house that caters to artists and their patrons for much of the last century. Dudley was planning to play many of the songs off his new album, 'Monsters'. As I hadn't seen Dudley before, I was so very excited at the prospect, and as time drew closer, I got more excited. I was thrilled to attend the show with another talented artist, Tom Goss, along with his handsome husband, Michael. I of course, brought my still camera and video camera, and both Tom and Mike lent a hand in recording some of the songs, and took a few still pictures. So I will bring you the sights and sounds of the show, taken by all there of us that night.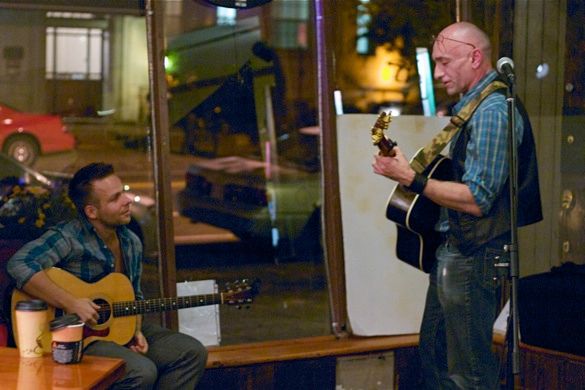 Tom helped Dudley get ready for the show, and they discovered the sound equipment was not working, and Dudley decided to go on with the show, without amplification. This added level of intimacy was an added bonus, perfect for Dudley's music. Dudley began the show with "We Were Right" off the 'Monsters' album.
Dudley also performed the brilliant "What Rats Are We", another song off 'Monsters'. I kept much of Dudley's chat before the song, for I really felt it added to the experience and understanding of the song.
While most of the songs Dudley performed were off the latest release, he also played some songs featured on previous albums. This is a video of his "Jesus Didn't Love Us Enough" off the album 'Emergency Lane'. I was so touched the first time I heard the song, and have to admit hearing it live brought a tear to my eye.
The next song was the final track on 'Monsters'. "Coal Tattoo" is a bracing and beautiful Gospel-fueled song that brought me to my feet. It was during this song I thought tom myself the only was to explain this man would be to believe he was the bastard son of Ronnie Gilbert and Levon Helm, a gorgeous voice matched with such a deep and giving soul. Enjoy "Coal Tattoo".
I've said it before and I'll say it again, Dudley Saunders has such a distinctive voice, both vocally and in his writing, I find it hard to think of anyone not appreciating his gift. 'Monsters' is such a wonderful album, one of my favorites released this year. IIf you appreciate great music, it should be in your collection. You can purchase 'Monsters' on
iTunes
,
Amazon
,
Bandcamp
, and
CD Baby
. To learn more about Dudley, visit his
official website
. You can also 'like' him on
Facebook
, or 'follow' him on
Twitter
.
Below Clockwise: Tom & Michael; me and Dudley, and a shot thought the window at Potter's House.