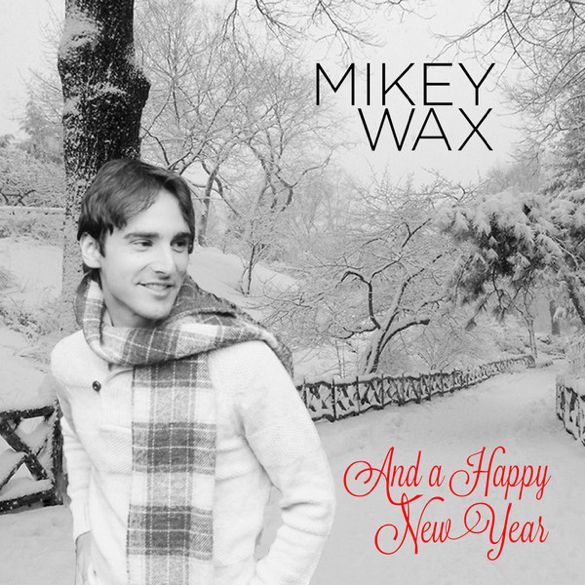 Mikey Wax is having a great year, with his great new album, 'Constant Motion', and the lead single, "Counting On You" scoring big on several episodes of the Fox series ''So You Think You Can Dance,' as well as having the song featured in the commercial for the movie hit starring Gerard Butler, Jessica Biel, Uma Thurman, and Catherine Zeta Jones. Mikey also found the time to go into the studio and record a Christmas EP, with three classic songs, as well as three written by the Long Island native himself. In fact, the collection opens with "And A Happy New Year," written by Mikey. There is a delightful throwback feel to the song, harkening back to a time when John Lennon was making great music. It is also the source of the first music video for the collection.
The second track off the EP sounds like it might be autobiographical for the singer/songwriter. Mikey pumps up the blues to the next level for "Catch The Midnight Flight". This is an amazing love song, so rich. It is followed by "Across The Universe," the great song written by John Lennon, a part of the fabled Lennon-McCartney songbook. It was released by The Beatles in 1969. Mikey certainly makes it his own, but retains a hint of psychedelia with a bit does of Rockin' Blues. Next Mikey takes on the last of his three original compositions, "Perfect Holiday". There is also a retro quality, and if I didn't konw better, I'd swear Clarence Clemmons is playing the sax on it, giving it more of the Rock-fueled Blues. Written by Sammy Cahn and Jule Styne in 1946, "Let It Snow!" was first a hit for Vaughn Monroe in 1945. Sixty-seven years later, Mikey slows it down a bit, giving a wistful, almost aching feel to the classic. Finally, Mikey sings "Winter Wonderland," written in 1934 by Felix Bernard and Richard B. Smith, best known for the original release in 1946 by Johnny Mercer. It was so popular, years later a television special was produced for it. Wax breaks out the ukelele, and a bit of a Rock-A-Billy feel, with a little steel guitar to add to the depth. There is such amazing charm to this collection, and it just warms my heart. You can purchase 'And A Happy New Year' on
iTunes
,
Amazon
, and
CD Baby
. To learn more about Mikey, visit his
official website
.