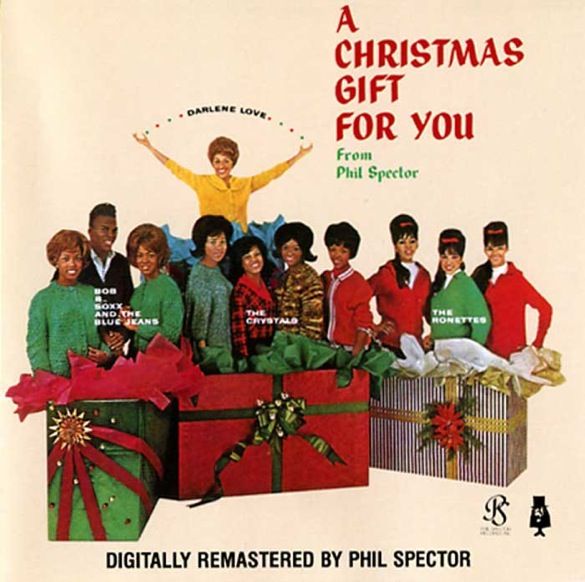 Time is a funny thing. It might be hard to believe, but forty-nine years ago, music producer Phil Spector released his Christmas album, 'A Christmas Gift for You from Phil Spector'. The songs were all classic holiday songs, only done with a striking twist. Arranged by Spector for his favorite acts, he utilized his trademark 'wall of sound' to give the songs a new feel. This was, of course, decades before Spector would be arrested and found guilty of murder. But forty years before his legal troubles, you could count The Ronettes among his favorites. The lead singer was Phil's wife, Ronnie Spector. It wasn't until much later that we learned of Spector's harsh and often brutal treatment of his talented wife, who left him after six unhappy years. But when Ronnie was lead singer for The Ronettes, they made magic. Listen to The Ronettes recording of "Sleigh Ride".
The Crystals were a big act for Spector, making waves on the charts in the early 1960s. One of the early girl groups, they lead the way for many who were to come. Interestingly enough, their first #1 song, "He's A Rebel", was not really recorded by the group. Lore has it The Crystals were working in New York and impatient Spector wanted to record the song quickly in Los Angeles, so he brought in another group, Darlene Love & the Blossoms to lay down the vocals. While some reports vary as to when the real Crystals managed to make it back to the studio, they certainly were on hand for the holiday record. Enjoy their recording of "Santa Claus Is Coming To Town".
Bob B. Soxx & the Blue Jeans were also featured on the album. The group was made up by Bobby Sheen, who took the stage name Bob B. Soxx, and vocalists Darlene Love and Fanita James. The Christmas album was, in fact, the last time the group recorded together, so enjoy their recording of "The Bells of St. Mary's".
Now, from just reading the above, it is easy to tell just how important the amazing Darlene Love was to the career of Phil Spector. I think it was partially because she had the perfect voice to go with the wall of sound. Hell, she has a voice that coupld go with just about anything. And of all the songs on this recording, it was Darlene's version of "Christmas (Baby Please Come Home)" that had real, long-lasting impact. It remains one of my favorites, and I am glad to share it with you. Love sings the song every year on David Letterman's talk show since 1986, and still sounds spectacular. This is her appearance in 2008, when she was 67 years of age. And still sounding like a 20-year-old.
Merry Christmas!