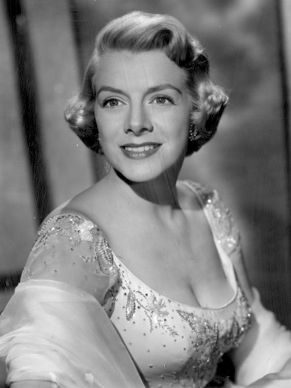 Clockwise: Rosemary Clooney, Julie London, Etta James, and Doris Day.
Harry Warren and Mack Gordon were both very successful songwriters, and when they came together, they made magic. There is a rich catalog of songs from which to choose, so I just picked four of my favorites to share with you. I will start with a song written for the 1943 film, 'Hello, Frisco, Hello'. In the movie, "You'll Never Know" was sung by star Alice Faye. It was one of nine songs nominated for for an Oscar, and went on to win the 1943 Academy Award for 'Best Original Song'. Fast forward 9 years, and the song was recorded by Harry James Orchestra, with featured vocalist Rosemary Clooney. I have long found Clooney's voice to be heavenly, so I couldn't resist using her recording now. This is "You'll Never Know", by Rosemary Clooney with the Harry James Orchestra.
Our next song was published in 1945, and originally sung by Dick Haymes in the film 'Diamond Horseshoe'. "The More I See You" has been sung by countless other artists since, and we are all the better for it. The song has a gorgeous melody, and is rich with emotion. In 1959 singer/actress Julie London released the song as part of her album, 'Your Number Please'. London added her own touch to the song, a breathy sexiness that is tough to resist. This is Julie London singing "The More I See You".
"Serenade in Blue" was introduced in the 1942 film 'Orchestra Wives' by Glenn Miller and His Orchestra, dubbed by Pat Friday for actress Lynn Bari. It was written as a Big Band number, with lush orchestrations. It was recorded by Glenn Miller and his Orchestra, with featured vocalist Ray Eberle with backing vocals by The Modernaires. That recording was the 11th best selling song of the year. It quickly became a standard, sung by most of the top singers of the time. Twenty-two years later, it was recorded by movie star Doris Day for her 1964 album, 'Doris Day's Sentimental Journey'. It is lovely, with a gorgeous string section. This is Doris Day singing "Serenade in Blue".
For my final song this evening, I thought I would go with what is arguably the most famous song the collaborators wrote. "At Last" appeared in the 1941 musical 'Orchestra Wives', which starred George Montgomery and Ann Rutherford. It was performed in the film and on record by Glenn Miller and his orchestra, with vocals by Ray Eberle and Pat Friday. While it was popular, it is not the version most remember. That would be the recording from 1960, made by the magnificent Etta James. James released her debut album that year, as well as the title cut. "At Last" made it to #2 on Billboard's R&B chart, and #47 on the Billboard Hot 100. While I would have suspected the song did much better on the charts, it remains an iconic recording, and the most remembered for "At Last". Please enjoy Etta James with "At Last".
These songs are all available on iTunes and Amazon, in various collections. And all are well-worth having in your collection. I hope you enjoyed the post, and are having a great weekend!