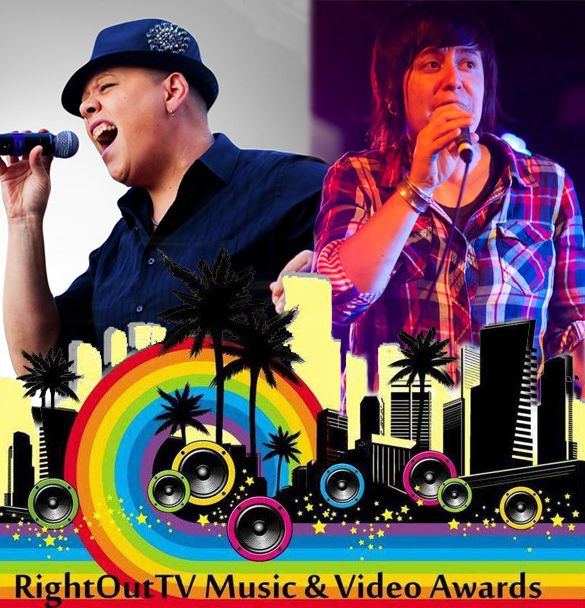 The winners of the 2014 RightOutTV Music & Video Awards were announced recently, proving what great music is being made by LGBT artists. Well, that was obvious when I saw the list of nominees, coming from all around the world. RightOutTV was founded by Marlee Walchuk and Tully Callender, devoted to the promotion of LGBT artists and their music all across the globe. The submissions are from many genre, from Rock to Country to Electronica. Once again this year, I was proud to be asked to be a judge, hearing some more great music and discovering a few new artists. But enough with all that. It is time to showcase some very deserving artists. Today I am thrilled to feature Summer Osborne (above, left) and Nastaij, (above, right).
I was quite pleased to hear the competition add a few new categories this year. One of those is 'Best Song With A Social Message', something important to so many of the LGBT artists. There were some amazing submissions, and giving us five outstanding nominees. The list included Anna Gutmanis with "Another Way Out", Sarah Golden with "The One I Love", Kristie Stremel with "Love Makes a Family", Jane of Arc with "Stand", and Summer Osborne with "Solution". This year, the award went to Summer Osborne, twice nominated in this category, and her fantastic song, "This Is Your Call". The St. Louis-based singer/songwriter released the album 'As I Am' in 2013, a wonderful collection of songs. The album included the song "This Is Your Call", which was named 'Best Song With A Social Message'. Please listen to "This Is Your Call" by Summer Osborne.
Our next award is going to a land down under. That is correct, we are going international with the Australian Hip-Hop artist, Nastaij. The Lismore-based Nastaij stands up and takes a strong stance on marriage equality in her music video for "You Don't Represent Me", which was co-written by featured artist Dawn Laird. Bold and honest, the song speaks to love and prejudice, and features news clips from Conservative Prime Minister Tony Abbott (boo-hiss!). It comes together in a spectacular fashion, and was named 'Best Music Video With A Social Message'. This was another category with strong competition, with music videos like Big Bad Gina's "Beetz In My Salad" featuring SJ Tucker, Erik Toro with "The Right", I.K.P. with "Let it B. Known", Linq's "Oh Bully", and Denise Marsa's "The Land Had a Dream". This is Nastaij with the scintillating "You Don't Represent Me".
Although I cannot find where you can purchase "You Don't Represent Me", I do see you can buy her EP 'The Warehouse Session' from
iTunes
,
Amazon
, and
Bandcamp
. To learn more about Nastaij, visit her
official website
. You can also 'like' her on
Facebook
, and 'follow' her on
Twitter
.
Marlee and Tully developed RightOutTV to help LGBT artists with promotion, as a way of giving back to the community. The couple are also a musical duo, making up Sugarbeach. They were kind enough to ask me to participate in the awards for the last few years as a judge. To learn more about RightOutTV, visit the
RightOutTV website
. You can also 'follow' them on
Twitter
, and 'like' them on
Facebook
.