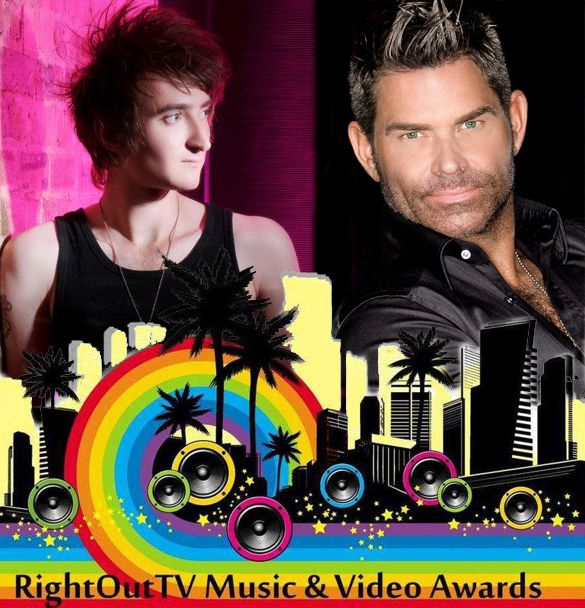 The winners of the 2014 RightOutTV Music & Video Awards were announced recently, proving what great music is being made by LGBT artists. Well, that was obvious when I saw the list of nominees, coming from all around the world. RightOutTV was founded by Marlee Walchuk and Tully Callender, devoted to the promotion of LGBT artists and their music all across the globe. The submissions are from many genre, from Rock to Country to Electronica. Once again this year, I was proud to be asked to be a judge, hearing some more great music and discovering a few new artists. But enough with all that. It is time to showcase some very deserving artists. Today I am featuring Alex Woburn (above, left) and Matt Zarley, (above, right).
The first category I bring to you today is 'Best Pop Song'. This was certainly a fun grouping, with many amazing submissions, and five outstanding nominees. The list included Andrew Suvalsky's "Helplessly", Kevin Wood's "Edge of Greatness", Craymo's "Be Myself, and Matt Zarley's "Somebody 4 Everybody". This year, the award went to Alex Woburn and his fantastic song, "Sop Playing the Film". The London-based artist has a fun Pop sound with just the right amount of edge. In June of this year, Alex released the song as a single. So, without further ado, this is Alex Woburn with the 'Best Pop Song', "Stop Playing the Film".
Next up, we have yet another strong group of songs submitted for the 'Best Electronic/Dance Song', a big category for the awards. The song is a beautiful and honest song about love and life, and was named 'Best Electronic/Dance Song', with strong competition from Sponge Finger's "You're a Bitch", "American Thumpdalina" by Jay Blahnik, Michael V. Doane's "Looking for Love", and "Falling Away" by Kevin Wood. And I must say, Matt is no stranger to winning awards, having taken home several over the past few years. It should come as no surprise to my regular readers, as Matt Zarley and his music has been featured on this blog on several occasions, and for good reason. The Los Angeles-based Zarley makes infectious Pop that is both yummy and addictive. And speaking of yummy, have you seen pictures or videos of this hottie? I know, right?! This is Matt Zarley with the official music video for "Somebody 4 Everybody".