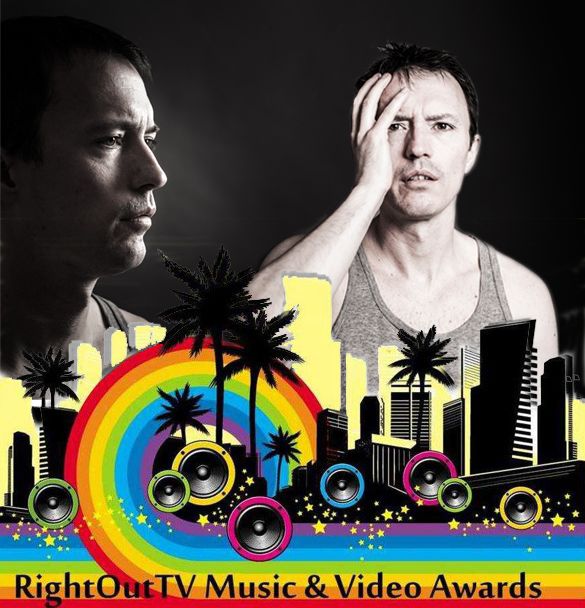 The winners of the 2014 RightOutTV Music & Video Awards were announced recently, proving what great music is being made by LGBT artists. Well, that was obvious when I saw the list of nominees, coming from all around the world. RightOutTV was founded by Marlee Walchuk and Tully Callender, devoted to the promotion of LGBT artists and their music all across the globe. The submissions are from many genre, from Rock to Country to Electronica. Once again this year, I was proud to be asked to be a judge, hearing some more great music and discovering a few new artists. But enough with all that. It is time to showcase some very deserving artists. Today I am thrilled to feature Gallavin.
One of those is 'Most Moving Video', something so many of the LGBT artists I listen to have in common - music with heart. There were some amazing submissions, and giving us five outstanding nominees which included Kristy Apps and the Shotgun Shirleys with "Modest In its Glory", Andrew Suvalsky's "The Curtain", Ramona Montañez with "Naked", and Paul M's "Hands to Heaven". This year, the award went to Gallavin for the song, "La Chanson des Vieux Amants". The Swiss singer/songwriter released the album 'So Sad the Songs' in 2013, a wonderful collection of Jazz material. The album included "La Chanson des Vieux Amants", named 'Most Moving Video'. The song is fantastic, and has a great music video to make it even more touching. I hope you enjoy the video for "La Chanson Des Vieux Amants" by Gallavin.
You can find "La Chanson des Vieux Amants" on Gallavin's album, 'So Sad the Songs'. You can purchase 'So Sad the Songs' from
iTunes
,
Amazon
, and
Bandcamp
. I just got it, and can heartily endorse it. It is fantastic! To learn more about Gallavin, visit his
official website
. You can also 'like' him on
Facebook
, and 'follow' him on
Twitter
.
Marlee and Tully developed RightOutTV to help LGBT artists with promotion, as a way of giving back to the community. The couple are also a musical duo, making up Sugarbeach. They were kind enough to ask me to participate in the awards for the last few years as a judge. To learn more about RightOutTV, visit the
RightOutTV website
. You can also 'follow' them on
Twitter
, and 'like' them on
Facebook
.