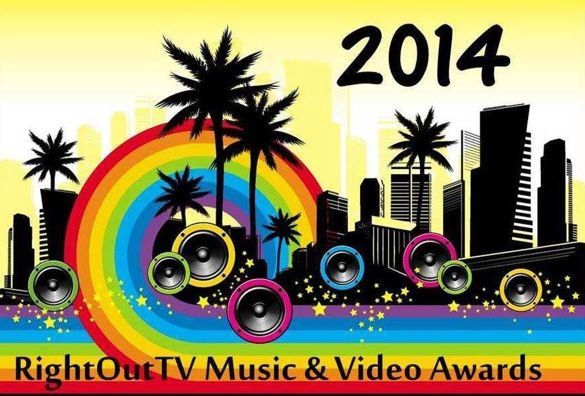 As we are coming up on the holiday season, it seems as those the lovely ladies of RightOutTV are eager to give back to the community. So Marlee Walchuk and Tully Callender were excited to announce the winners of the 2014 RightOutTV Music & Video Awards. They enlisted several of the talented members of the LGBT music community to put on a wonderful show for the deserving winners. Several of the artists nominated and classed out in the video have already been featured on the blog, and I am excited to be introduced to new talent. Click play, and watch and enjoy the show.
Marlee and Tully developed RightOutTV to help LGBT artists with promotion, as a way of giving back to the community. The couple are also a musical duo, making up Sugarbeach. They were kind enough to ask me to participate in the awards for the last few years as a judge. To learn more about RightOutTV, visit the
RightOutTV website
. You can also 'follow' them on
Twitter
, and 'like' them on
Facebook
. In the coming weeks, I will showcase the winners on the blog. And I will include the list of winners below.
Winners for the 2014 RightOutTV Music & Video Awards
BEST SPIRITUAL / BLUES / JAZZ / INSTRUMENTAL SONG
Jamie Anderson, "Black and White"
BEST ELECTRONIC / DANCE SONG
Matt Zarley, "Somebody 4 Everybody"
BEST PERFORMANCE IN A LIVE VIDEO
Jamie Anderson, "Her Problem Now"
BEST LYRIC VIDEO
Matt Fishel, "Finally"
BEST VIDEO SO FAR
I.K.P., "Hunt Me Down"
SONG OF THE YEAR
Kevin Wood, "One Time Around
BEST POP SONG
Alex Woburn, "Stop Playing The Film"
BEST ROCK SONG
Megan Lane, "Someday We Will Leave This Town"
BEST SOUL / HIP HOP / RAP / R&B SONG
D'Lance Jones, "Forever With You"
BEST FOLK / ROOTS/ COUNTRY SONG
Sarah Golden, "The One I Love"
BEST SONG WITH A SOCIAL MESSAGE
Summer Osborne, "This is Your Call"
BEST SONG SO FAR
Janet Whiteway, "Pure Sunshine"
BEST VIDEO DIY
K Anderson, "14 Year Old Me"
BEST VIDEO PRO
Michael V. Doane, "Looking For Love"
MOST MOVING VIDEO
Steven Gallavin, "La chanson des vieux amants"
BEST VIDEO WITH A SOCIAL MESSAGE
Nastaij, "You Don't Represent Me" feat. Dawn Laird
FAN FAVE AWARD
Kevin Wood