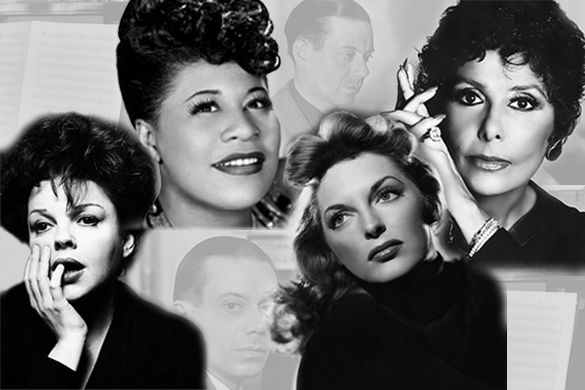 Left to right: Judy Garland, Ella Fitzgerald, Julie London, and Lena Horne.
Lena Horne sings "At Long Last Love". The song was written by Cole Porter for his 1938 musical 'You Never Know'. The show was notable only because it was Porter's first show after the riding accident that left him using a cane for the rest of his life. Apparently, much of the show is forgettable, even though it featured music by Cole Porter and Robert Katscher, lyrics by Cole Porter, additional lyrics by Leigh and Edwin Gilbert, and songs by others as well. That description alone tells me it will be a bit of a mess. But it had this song, and here it is sung by the always brilliant Miss Lena Horne.
Julie London sings "What Is This Thing Called Love". The song was written for the musical revue 'Wake Up and Dream', on Broadway in 1929. In fact, the show opened on December 20, 1929, making it the final Broadway opening of the 1920s. The song almost instantly became a Jazz standard, and is one of the most performed songs of Porter's impressive songbook. As London is still a favorite of my mother, I can't help but have a warm pot for her and her music. This is Julie London singing "What Is This Thing Called Love".
Ella Fitzgerald sings "It's Alright With Me". The song is from the 1953 musical 'Can-Can'. The show featured the stories of the ladies performing in the Parisian dance halls of the 1890s. The musical was a success both in the original Broadway production as well as the original West End production in London. Here, it is performed by the iconic Ella Fitzgerald, whose voice is just so perfect to sing Jazz and standards as few others can. This is Ella with "It's Alright With Me".
Judy Garland sings "I Am Loved" from the 1950 musical, 'Out of This World'. The show was an adaptation of Plautus' comedy 'Amphitryon', featuring Roman Gods wanting to have some fun with mere humans. The show was the follow-up to the hugely successful 'Kiss Me, Kate', and was his first and only box office failure of the 1950s. Of course, there was only two more shows by Porter to come, 'Can-Can' and 'Silk Stockings'. But I think this song is a perfect way to end the post. This is Judy Garland singing "I Am Loved".
After decades of pain in his legs from the riding accident in 1937, and following 34 surgeries to try to fix it, Porter's right leg was amputated in 1958. Having already lost his mother in 1952, and his wife, Linda, in 1954, it was thought this was the final straw to break Cole, and he went in seclusion, writing no more music until his death in 1964. Luckily for us all, he left a rich songbook that will always entertain.