It is hard for me to believe that it has been about 4 and a half years since Matt Morris released his amazing album, 'When Everything Breaks Open'. Morris was the first person signed to Tennman Productions, the new label founded by Justin Timberlake. The two had been friends for a long time, since they were on the 'New Mickey Mouse Club' with Brittney Spears, Christina Aguilera, JC Chasez, Tony Lucca, Keri Russell, and Ryan Gosling, among others. I must admit, I didn't watch the show, and discovered his music much later. I must also admit I not only had Matt in my music collection, for I also had music by his father, Country Music and Broadway star Gary Morris, making them the first father/son acts so represented.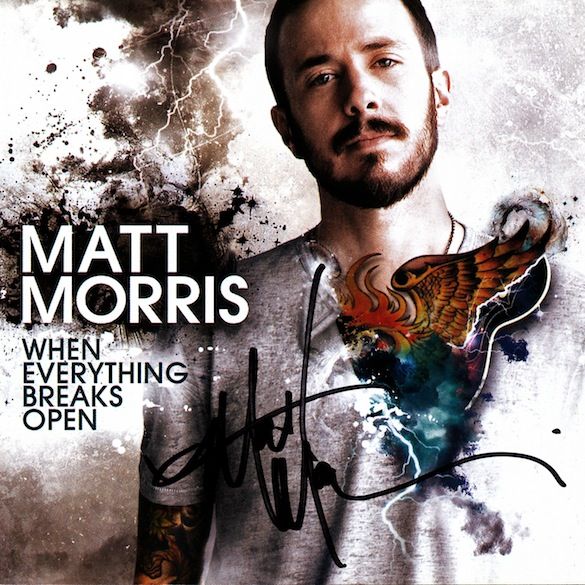 I loved the album immediately, and still find it to be a great listen. So much so, I was truly expecting there to be some music following up. I waited quite patiently, but so far, none has been released. So instead of playing the waiting game any longer, I have opted to take a look back at the album, via some live performances of some great songs. The song "Love" was a particular favorite of mine, and still remains so entrenched. It was written by Morris, and it fits his voice to a 't'. This is the third track on the album, "Love", as it was performed live on 'Lopez Tonight', the talk show starring George Lopez.
The second track off 'When Everything Breaks Open' is a sexy, bluesy song which never fail to get me moving whenever I hear it. There is so much truth to the song, so much honesty to be found in the lyrics, I think it needs to be played a helluva lot more than it is played now. Matt played the song on the 2009 Chabad "To Life" Telethon, a joyful celebration of life and a reminder of the power of good deed. I know when Matt sings "Money", there is joy to be had.
The final track of the CD makes the third song in this post that was written by Morris. "Eternity" is a great song to end with, showing a great depth and strength of 'When Everything Breaks Open'. There are elements of history, spirituality, love, and life in the track. I find those attributes well-represented in this acoustic music video released by Morris in 2010. This is "Eternity" by Matt Morris.
As I mentioned earlier, while the album was released in July of 2010, it still has a place in my collection, and a relevance for life today. Matt does not create light Pop tunes, easily forgotten the next season. He makes music that is to be heard, felt, and, in doing so, nourish the soul. For more about Matt Morris, visit his
official website
. You can also 'follow' him on
Twitter
, and 'like' him on
Facebook
. You can purchase 'When Everything Breaks Open' from
iTunes
and
Amazon
.