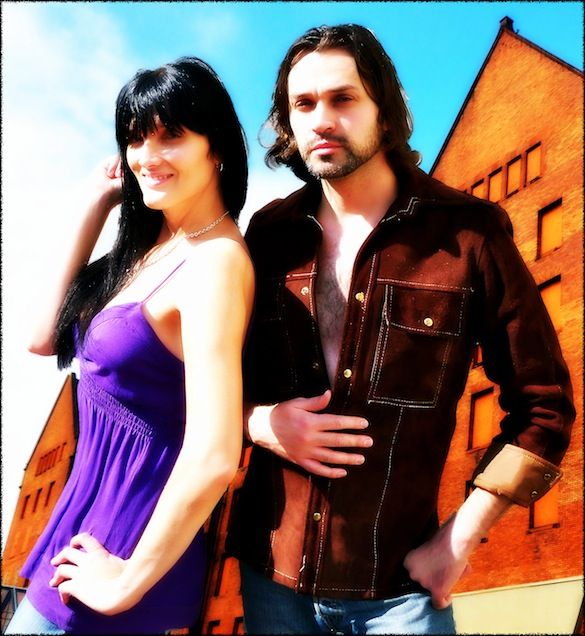 When I found out there was new music coming from Carly and Hoyt Emerick, better known as Candy Apple Blue. The news alone brought a smile to my face, as I am a big fan of their music. Not only are the siblings gorgeous (I mean, look at that picture above!), they are also very talented, creating Electronica I love to play. I discovered them through my buddy SIRPAUL, and since then, I've been hooked.
Recently, Carly and Hoyt have been working with vocalist Nick Bramlett, and from the sound of the first single, it is a collaboration made in heaven. Nick's voice is bold and clear, with an earthy quality that gives him a sexy edge. Carly joins him on the backing vocals, and they blend well. Hoyt and Carly brought the production together, as the track was written, arranged, produced, engineered and mixed by Candy Apple Blue. And there is a seriously cool guitar solo by Kris kHz. I hope you enjoy Candy Apple Blue featuring Nick Bramlett with "Detonator".
I don't know about you, but the minute I heard the song, I know I needed to have it on my iPod. You can purchase "Detonator" from
iTunes
,
Amazon
, and
Bandcamp
. The song will be on the album 'Powers Activate', a project combining the wonders of Candy Apple Blue and Nick Bramlett. I can't wait to hear the album! To learn more about Candy Apple Blue, visit their official website. You can also 'follow' them on Twitter, and 'like' them on Facebook. You can find Nick Bramlett on social media, where you can 'follow' him on
Twitter
, and 'like' him on
Facebook
.