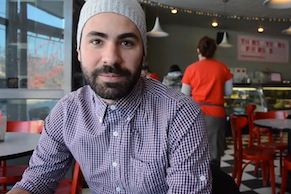 I was very excited to hear Aiden James was working on another music video, and even more so when it was up on YouTube. That means I needed to head out and watch "Snapshot", found on his 2012 album, 'Trouble With This'. I must say, at first I was surprised to not see Aiden, but instead a video featuring the very handsome Marco Sousa, who I believe was also featured in the music video for Aiden's "Hurry Hurry". He brings an inherent sweetness to the video, which already has the wonderful song the capture your heart. I hope you enjoy the music video for "Snapshot".
See, it is impossible to not love the song, and not fall for Marco and the music video. You can find "Snapshot" on 'Trouble With This", which can be purchased from
iTunes
and
Amazon
. While you are at it, you can also find his latest single, "Last Reminder" on
iTunes
and
Amazon
, too. If you haven't heard it yet, you can give a listen with this audio version posted by Aiden. This is "Last Reminder".
I must say, I have been a huge fan since I first heard Aiden singing live at the World Cafe Live several years ago. I had to buy his first album, and have been eager for all his music since. To learn more about Aiden James, visit his
official website
. You can also 'like' him on
Facebook
, and 'follow' him on
Twitter
.