Holopaw: (l to r) Ryan Quinney, John Orth, Jeff McMullen, Patrick Quinney. Missing: Matt Radick.
With the amount of music out there in this digital age, I find myself being able to keep up with some, but feeling tragically behind the times with others. Such is the case with today's featured artists, Holopaw. The Florida-based band is made up with John Orth on vocals, Patick Quinney on guitar, Matt Radick on keyboards, Jeff McMullen on bass, and Ryan Quinney on drums. Orth is at the creative core of Holopaw, and is an out and proud gay man. The band makes music that seems to combine an ethereal moodiness with the raw-edge of a garage band.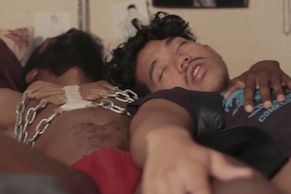 About a year ago, Holopaw released the music video for their song "Dirty Boots (He Said)", which follows a sexually-charged day in the life of a gay biker gang in Brooklyn. The song has a somewhat hallucinogenic quality, while maintaining a light, dreamy feel. I sometimes listen to Holopaw and find myself intoxicated by the music. The video was directed by Adam Baran, and features a narration by legendary porn star Peter Berlin. The video pays tribute to queer film pioneers Kenneth Anger and Wakefield Poole, this is the official music video for Holopaw's "Dirty Boots (He Said)".
"Dirty Boots (He Said)" can be found on the album 'Academy Songs, Volume 1'. I must admit, this was a delightful discovery for me, and I am thrilled it is now on my iPod. The 2013 release can be purchased from
iTunes
,
Amazon
. To learn more about Holopaw, visit their
official website
. You can also 'like' them on
Facebook
.