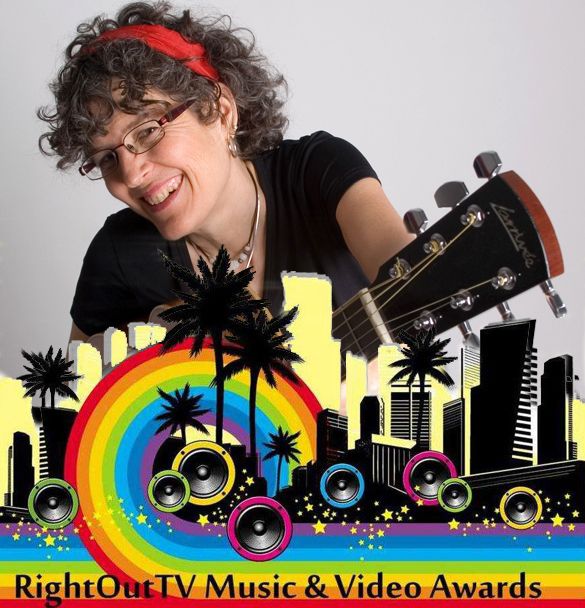 The winners of the 2014 RightOutTV Music & Video Awards were announced recently, proving what great music is being made by LGBT artists. Well, that was obvious when I saw the list of nominees, coming from all around the world. RightOutTV was founded by Marlee Walchuk and Tully Callender, devoted to the promotion of LGBT artists and their music all across the globe. The submissions are from many genre, from Rock to Country to Electronica. Once again this year, I was proud to be asked to be a judge, hearing some more great music and discovering a few new artists. But enough with all that. It is time to showcase some very deserving artists. Today I am thrilled to feature Jamie Anderson, who earned two awards this year!
The first win I feature is 'Best Spiritual/Blues/Jazz/Instrumental Song', a category that spans several genres, all of which you can find in my music collection. There were several incredible submissions, and giving us five outstanding nominees. The list included Shawn Thomas with "Still Speaking", Anna Gutmanis and her single "Lately It's Cold", Norine Braun's "Lightning Strikes Twice", and Shawn Thomas' second nominated performance, "I'm Alive". I am pleased to announce the award went to Jamie Anderson and her ethereal, "Black and White". Anderson released the album 'Dare' in 2013, which included the winning song, which was named 'Best Spiritual/Blues/Jazz/Instrumental Song'. Please enjoy Jamie Anderson's "Black and White".
The second award was given for 'Best Performance in a Live Video'. This was tough competition, with many strong submissions. After the judging, the list was winnowed down to great nominations from FlyKINGi for "At the Roxbury", Avi Wisnia with his lovely "Sky Blue Sky - Live at The Michener", Andrew Suvalsky performing in "Live at Jazz @ Kitano in New York", and Rev. Yolanda with a great turn in "@The Duplex". I am pleased to report Jamie Anderson picked up her second win of the competition with "Her Problem Now", a great performance which also featured musician Mark Russell. The song manages to combine just the right mount of humor, bluesy grit, and honesty to make it a sure winner. And it also makes you think twice about ever dating a singer/songwriter, if you know what I mean. After all, who really wants a break up to earn your ex an award? While that might be true, it is my honor to introduce you to "Her Problem Now".