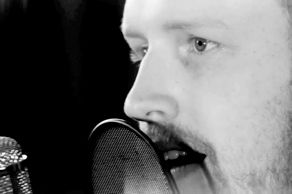 I must admit, I have a huge musical crush on Irishman Gavin James. It is a longstanding problem, begun a few decades ago when I couldn't get enough of Van Morrison, followed by my love for the music of U2. More recently, I'll admit to my preoccupation with the music of Brian Kennedy, and to adding Gavin to the list. So when I saw he had posted a Christmas song, I couldn't wait to watch the video. When I saw it was "Have Yourself A Merry Little Christmas", a song written by Hugh Martin and Ralph Blane for the 1944 MGM musical 'Meet Me In St. Louis', I knew I was in trouble. The song was introduced by the great Judy Garland, and quickly became a holiday classic. In this video, Gavin gives the song a new twist with his live performance that makes a very happy man. This is Gavin James singing "Have Yourself A Merry Little Christmas".
Gavin recently released a live album of which I am particularly fond. 'Live at Whelans' is wonderful, I just can't get enough of it. Seriously! But I will try to get my heart in check, and review it for you soon. To learn more about Gavin James, visit his
official website
. You can also 'like' him on
Facebook
, and 'follow' him on
Twitter
.