I have been a fan of Lauren Bacall for as long as I remember. When I was just a young kid, I remember sitting in front of the television, watching the black and white movies, often starring Humphrey Bogart and Bacall. I hadn't realized it then, but they were a couple, which certain helped with their stunning chemistry. So when I heard of Bacall's passing not long ago, I was truly sad. I had long believed Bacall was truly underrated, having never been nominated for an Academy Award for a performance until 1997, when she was nominated for 'The Mirror Has Two Faces'. After all, her work in the 1944 film 'To Have and To Have Not' opposite Bogart is just so darned impressive, I was hooked on her from the first time I watched it. This is Bacall with her famous 'whistle' scene.
I was so much a fan, I couldn't wait to purchase her autobiography, 'Lauren Bacall By Myself', with amazing stories and insights into her life. For me, there was an incredible honesty on the pages, and I couldn't put it down. I loved the fact she was born in The Bronx, and raised in Brooklyn, and went on to become a big movie star in Los Angeles. Of course, Bacall moved back to New York later, for that is where she felt most at home.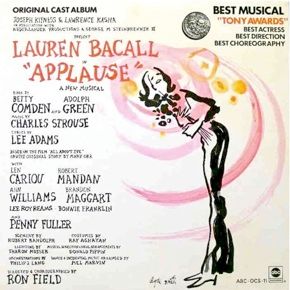 Bacall also had an impressive Broadway resumé, first starring in 'Goodbye Charlie' in 1959, as well as star turns in 'Cactus Flower' in 1965, 'Applause' in 1970, and 'Woman of the Year' in 1981. There were several other appearances on the New York stage. Bacall also earned two Tony Awards for Best Actress in a Musical for her performances in 'Applause' and 'Woman of the Year'. I thought it would be nice to see a video of her performance of "But Alive" from 'Applause', with music by Charles Strouse and lyrics by Lee Adams.
Lauren Bacall passed away on August 12, 2014, about a month before her 90th birthday. Her beauty, talent, and style will all be sorely missed. Rest in Peace, Lauren Bacall.